Spring Workshop + Tradeshow Details
This year, for the first time, we will be hosting the SWTS at Cedarbrook Lodge near SeaTac. This beautiful lodge will provide rustic scenery and delightful eats along with a day of education and fun.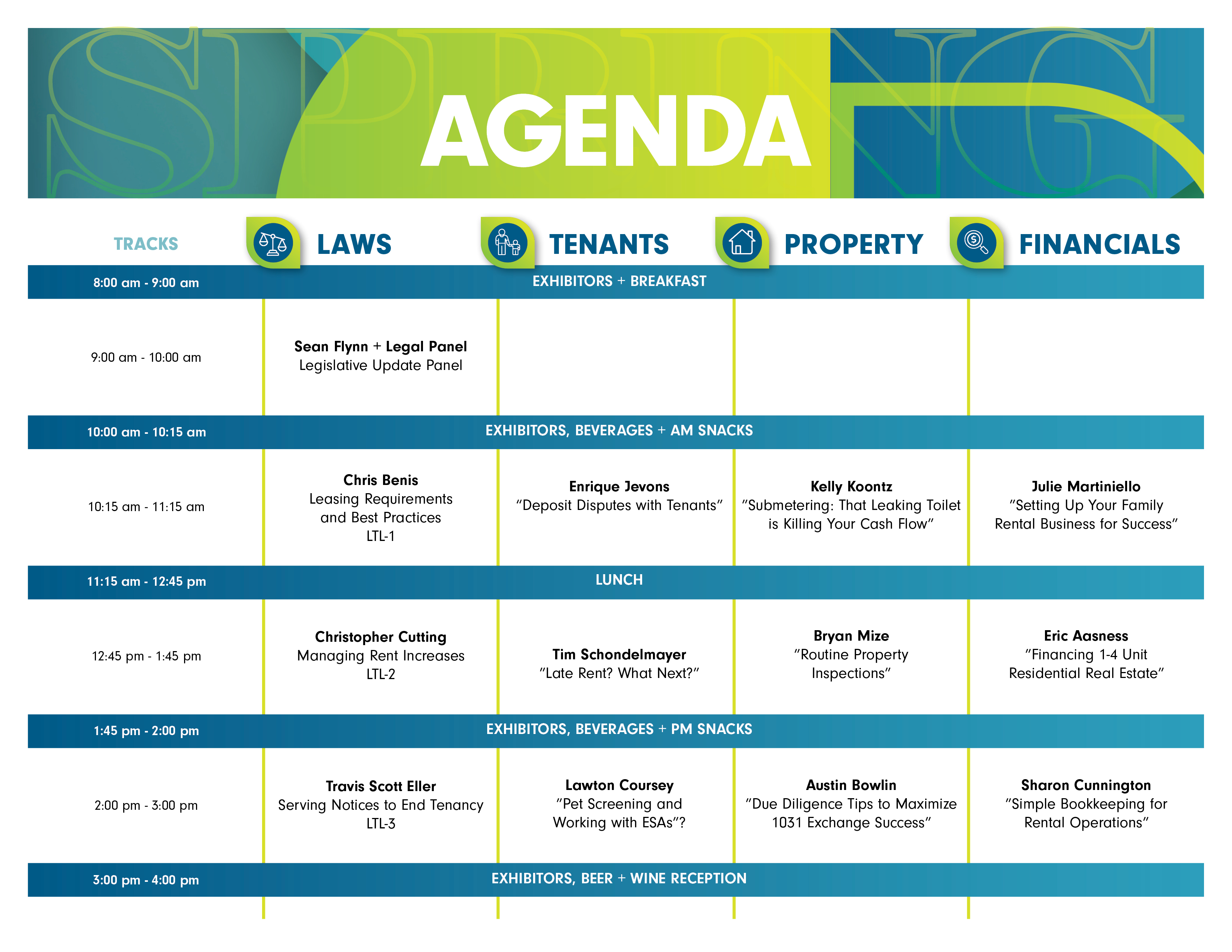 ---
Session Descriptions + Instructor Info.
Track: Laws
Legislative Update Panel

9:00 am – 10:00 am | Sean Flynn
A panel of attorneys including Chris Benis, Christopher Cutting, and Kaitlyn Jackson, led by Sean Flynn will review and discuss the outcomes of the 2023 legislative session, summarizing new state and local laws and how to apply them to your rental policies and practices.
Sean Flynn is the owner of Flynn and Associates, PLLC. His firm focuses on representing clients in real estate and trust and estate litigation, planning, and transactions. He also manages several of his own rental properties and serves as RHAWA Board President and Executive Director.

---

Leasing Requirements & Best Practices LTL-1

10:15 am – 11:15 am | Chris Benis
Chris Benis will summarize key aspects of residential leases in Washington and discuss options housing providers can select based on their rental property and goals for the tenancy.
Chris Benis practices law with First Avenue Law Group, PLLC in Seattle, WA representing property management firms, individual real estate investors, and others in the real estate industry. Chris serves as Legal Counsel for the Rental Housing Association of Washington (RHA) and is a frequent instructor and past-President of the organization.

---

Managing Rent Increases LTL-2

12:45 pm – 1:45 pm | Christopher Cutting
Rent increases are no longer a simple matter in Washington. Based on the city and amount of rent, notice periods and delivery requirements vary widely. Christopher Cutting will go over all the details, explaining the laws, best practices, and consequences of noncompliance.
Christopher Cutting has been practicing residential and commercial landlord-tenant law, judgment enforcement, and appeals since 2009. Christopher is the Vice President of RHAWA and Co-Chairman of the Legislative Committee.

---

Serving Notices to End Tenancy LTL-3

2:00 pm – 3:00 pm | Travis Scott Eller
Consistently enforcing the terms of your rental agreement is your legal right and responsibility. Neglecting to do so opens you up to serious risks such as property damage, lost rent, and fair housing complaints. Under new laws, it is critical to adhere to specific procedures for posting notices involving the end of tenancy, including pay-or-vacate, comply-or-vacate, and other good causes to end the tenancy.
Travis Scott Eller practices with Eller Law Firm and owns Access Evictions, Inc. Travis has practiced landlord-tenant law for more than twenty years, representing both commercial and residential landlords. He has successfully represented clients in trials, arbitrations, mediations, administrative agencies, and appeals.
---
Track: Tenants
Seasoned professionals will share best practices and lessons learned related to all stages of the tenancy lifecycle.
Deposit Disputes with Tenants

10:15 am – 11:15 am | Enrique Jevons
Tenants need their deposit money back in order to move into a new home and often do not agree with their landlord's assessment of damages. Enrique Jevons will share best practices for assessing damages and communicating with tenants throughout the process, plus when and how to go to court.
Enrique Jevons founded Jevons Property Management Company in 2008 with the goal to own and manage the best rental properties available for people living all across Washington State. Today, he owns over a hundred units and his company manages over one thousand rental units spanning from Pierce County to Yakima.

---

Late Rent? What Next?

12:45 pm – 1:45 pm | Tim Schondelmayer
Managing late and unpaid rent has become very complex, with new and varied procedures for late fees, notices, mediation, and court. In addition to giving a review of state and local laws, Tim Schondelmayer will share best practices for communicating and negotiating with tenants for the best outcomes.
Tim Schondelmayer has almost 20 years of experience managing residential properties and currently serves as Regional Manager at Mullally Development Company.

---

Pet Screening and Working with ESAs

2:00 pm – 3:00 pm | Lawton Coursey
Since 70% of U.S. households keep pets, it makes sense to welcome them but have systems in place to reduce the risk of liabilities such as injuries and damages to your property. Learn how to set effective pet policies including screening, and how to handle accommodation requests for assistance animals.
Lawton Coursey currently serves as the President of the King County Chapter of The National Association of Residential Property Managers, Director of Sales at The Joseph Group, and Owner/Operator of Highmark Property Management.
---
Track: Property
Rental property industry experts explain best practices for evaluating property value and condition and what you can do to improve cash flow and return on investment.
Submetering: That Leaking Toilet is Killing Your Cash Flow

10:15 am – 11:15 am | Kelly Koontz
If you are unable to bill tenants directly for utilities in your duplex or a larger building, they are unlikely to conserve or even report a dripping faucet or running toilet which can seriously cut into your net income. Kelly Koontz will explain how submetering or ratio utility billing systems (RUBS) can simplify billing and make a big difference in your bottom line.
Kelly Koontz is the President of Submeter Solutions, Inc. based in Kent, WA. Since 1999, Submeter Solutions provides customized metering systems and utility billing services that empower you to manage, conserve, and recover utility costs.

---

Routine Property Inspections

12:45 pm – 1:45 pm | Bryan Mize

As a rental property owner, not only is it in your best interest to stay on top of building repair and maintenance, but it is also your legal responsibility to ensure the property meets basic habitability standards. For these reasons and more, routine inspections are a must. Learn what to look for and what could happen if problems are missed.

His company, Optimized Home Inspections, provides the most in-depth assessment possible in each clear, detailed, home inspection report. They are licensed, InterNACHI Certified, and highly experienced home inspectors.

---

Due Diligence Tips to Maximize 1031 Exchange Success

2:00 pm – 3:00 pm | Austin Bowlin
Evaluation and analysis of investment property are vital to minimize risk, reduce uncertainty, and enhance the likelihood of meeting investment goals. Learn the best practices employed by RETS' due diligence team, as well as the objectives, necessary external resources, and common mistakes made when evaluating the property.
Austin Bowlin, CPA is a Partner at Real Estate Transition Solutions (RETS), a national real estate investment advisory firm specializing in 1031 Exchange strategies and Delaware Statutory Trust investments. As Chief Exchange Strategist, Austin leads the firm's team of licensed 1031 Exchange advisors and analysts.
---
Track: financials
Experienced rental housing investors and business professionals help you understand all the finance and business issues related to rental property investing.
Setting Up Your Family Rental Business for Success

10:15 am – 11:15 am | Julie Martiniello
Many rental owners end up including adult children in their rental operations at some level. Learn about the benefits of setting up an LLC and structuring a family business, including management of shares, work responsibilities, taxes, and other considerations.
Julie Martiniello, Estate Planning Attorney and Managing Partner of Dimension Law Group have focused her practice primarily on trusts & estates, real estate, and business transactions for the past 11 years. She is a frequent speaker and active member of RHAWA.

---

Financing 1-4 Unit Residential Real Estate

12:45 pm – 1:45 pm | Eric Aasness
Learn how to finance 1-4 unit residential properties including loan and down payment requirements, using income from the property to qualify, how to analyze the income and cash flow, and evaluate alternative financing options, such as Investor Cash Flow Programs.
Eric Aasness is a mortgage lender with over 35 years of experience lending in the Pacific Northwest and across the country. He is a licensed Continuing Education Instructor with Washington State and is also certified with the Washington State Housing Finance Commission.

---

Simple Bookkeeping for Rental Operations

2:00 pm – 3:00 pm | Sharon Cunnington
In addition to making tax returns easier, careful monitoring of income and expenses can help you improve cash flow, prepare for big capital expenditures, and gain leverage when financing future investments. Learn to download, organize and analyze bank data using nothing but Microsoft Excel.
Sharon Cunnington is a real estate investor, entrepreneur, and inventor. She specializes in helping people purchase and manage positive cash flow investment properties as a licensed real estate broker and consultant. She has served on the RHAWA board for many years and is a frequent speaker.
---