Pierce County Executive, Bruce Dammeier presents the Associated Ministries'
PRESS RELEASE
Contact:
Heather Pierce
(206) 905-0611 | hpierce@RHAwa.org
RHAwa.org
Seattle, WA – July 26, 2018 –This morning, the Landlord Liaison Program (LLP) team from Associated Ministries, including its Executive Director, Michael Yoder, alongside Pierce County Executive Bruce Dammeier, and Director of Human Services, Peter Ansara, presented RHAWA with the LLP's first quarterly Community Pillar Award. RHAWA's Board President, William Shadbolt accepted the award on behalf of RHAWA.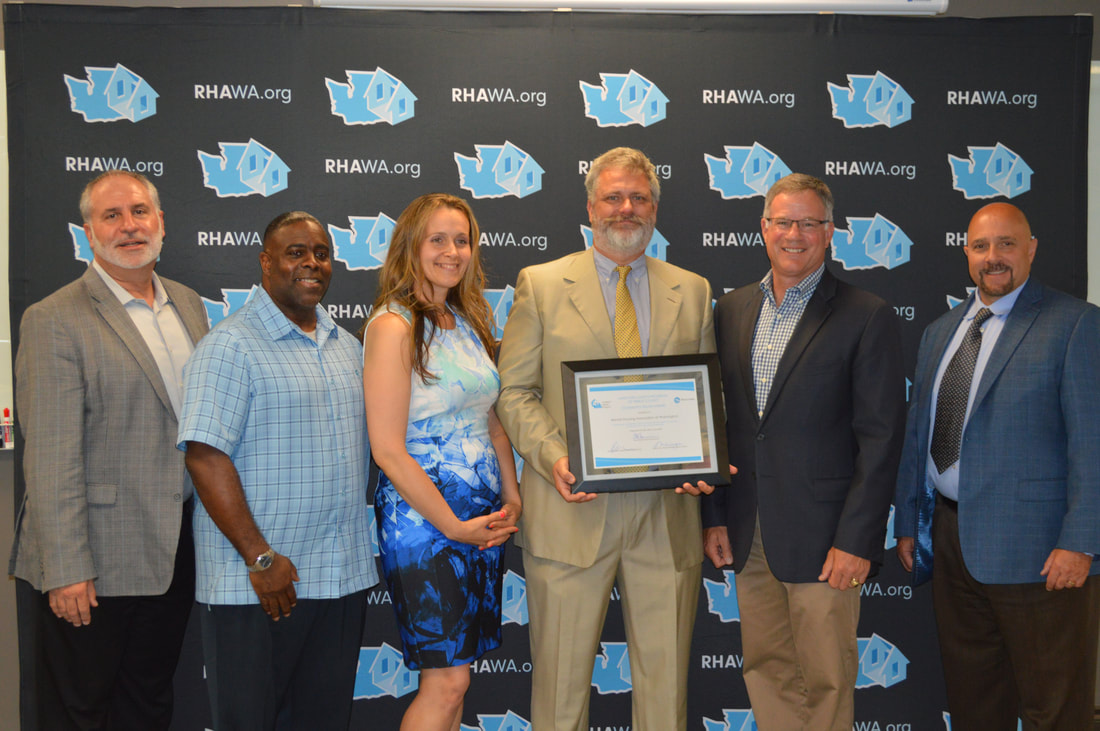 The Associated Ministries' Landlord Liaison Program, launching in September of 2018, is a partnership program which works with the Fair Housing Center of Washington, Property Owners / Managers, and Participating Service Agencies. The LLP's goal is to effectively house homeless individuals and families with rental barriers. To participate in the LLP, Property Owners and Managers agree to utilize secondary screening criteria for applicants referred to them through the LLP. In exchange, Participating Service Agencies will continue to provide support to LLP Rent Ready Tenants and will promptly respond to Property Owners / Managers concerns.

RHAWA learned about the newly minted Pierce County LLP and jumped at the opportunity to meet with the LLP team and learn how RHAWA could find a way to partner with Associated Ministries and facilitate LLP to recruit RHAWA members to participate in the new LLP.

"This award is for those who have gone above and beyond to help end homelessness. We strive to keep an eye out for exceptional things happening in our communities and backyards. Housing is a vital part of maintaining security and safety in our community, it is a very basic need that everyone deserves. The compassion and goodwill of The Rental Housing Association of Washington (RHAWA), is a prime example of an organization that is committed to maintaining the well-being of all Pierce County residents. RHAWA is a large and influential group of property owners and their compassion and drive to help improve the system by bringing their members together is unheard of at that level," said Alexis Eykel, LLP Manager.

Pierce County Executive, Bruce Dammeier remarked, "[w]hen we look at homelessness and affordability together, it's about partnerships," and that "partnerships with the private market is critically important," and that local government and non-profits need to "be engaging the private sector market in a constructive way that makes sense."

Peter Ansara, Pierce County's Director of Human Services noted that building working relationships with organizations like the "Rental Housing Association of Washington and its landlords, it is a distinct way to deconcentrate poverty. By putting folks in the private market, not concentrating them in one place, that's a win/win for everybody in the community."

RHAWA Board President echoed the sentiment of Pierce County officials by saying that "one of the things that [RHAWA] always wanted to look for is a win/win solution, not just for our members, who are rental property owners, but also our residents, because they're our customers."

RHAWA was honored to accept the award presented by the Associated Ministries' Landlord Liaison Program and Pierce County officials and "on behalf of our 5,300 members, we look forward to with working with you," said RHAWA Board President, William Shadbolt.

About Rental Housing Association of Washington
With more than 5,300 members, RHAWA is the State's oldest and largest association of rental property owners, managers and investors working together to advance the general welfare of the rental housing industry. RHAWA is a not-for-profit organization, and provides its members with a full range of products and services including tenant screening, leasing forms, and education.
For more information:
Heather Pierce, (206) 905-0611 | hpierce@RHAwa.org