Rental Maintenance: Let's Get Started Right! Our Itemized Interior Maintenance Checklist
Ready or not, here comes March! Because of the submission deadlines, as I write this article it's still early February; still dark, cold, and wet. And, since the Pacific NW weather forecast has March continuing with La Niña weather patterns that started late last fall, it is likely to be colder and wetter than normal, which may mean more snow. So, what's new, right? The changing global weather patterns have generally been making the Pacific NW Winters longer, colder, and wetter. But whether it feels like it or not, spring is right around the corner. And, since by then we'll want to start to look at and work on outside maintenance, it's a good idea to get started this month with inside maintenance.
Normally, we recommend to our Landlords and Property Managers that their Rental or Lease Agreements include interior maintenance checks two times a year, in the spring and in the fall. As March begins, there is plenty of time to get Entry Notices out so that the spring interior maintenance check can be done this month. I realize that many Landlords and Property Managers recoil a bit when it comes to actually doing maintenance checks, but, without exception, not one person that we've worked with has regretted doing them, because no matter how well you screen your tenants; you just don't know what you don't know until you take a quick look. It's kind of like President Reagan used to say: "Trust, but verify."
Semi-annual maintenance checks can be minimally intrusive; just 10 or 15 minutes. All it has to be is a physical walk-through of each room, with detailed attention to the kitchen and bathrooms.
When we do maintenance checks for our clients, after the initial introduction at the door, we hold our phone/camera in hand and, as we enter each room, we smoothly follow a wall all the way around the room back to where we started. If we see something that needs attention, like a bad ding in a wall or a fixture not working, we snap a quick picture as we say, "we need to take care of that," but we don't do any kind of third degree like "how did that happen?" We just take a quick picture to document and then keep moving.
Of course, the main thing we are looking for besides blatant abuse/damages is any problems or issues around water because water damage is so relentless and unforgiving. Consequently, the Interior Maintenance Checklist we use has a line item for every water-related damage area that needs to be watched.
For example, instead of the Checklist looking like this…

It looks more like this….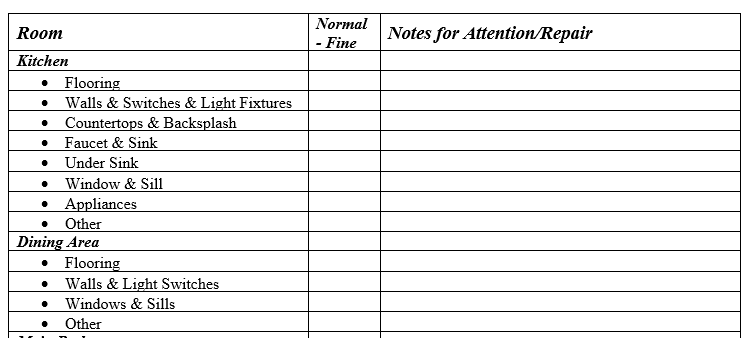 Simply list every room or area in the unit and include enough line-items to quickly double-check the primary areas of concern. It can be just like the Water Heater or Furnace Checklist, which normally lists everything that needs to be serviced/checked.
You get the idea. Being able to get the Interior Maintenance Checklist out of the way in March helps the year get started nicely and helps set the tone for being pro-active and prepared for the year ahead.
###
Bruce Davis, Sr. President Director of Education & Learning, Sales Manager, Licensed Journeyman, Plumber, Licensed Electrician, HVAC/R Electrical Administrator, HVAC/R Certified WA State C.E.U. Instructor
Bruce Sr. is President of Day & Nite Plumbing & Heating, a 68-year-old family owned and operated plumbing and heating business in Lynnwood, Washington. Bruce can be contacted at: Bruce@dayandnite.net
Day & Nite Plumbing & Heating Inc. 16614 13th Ave W Lynnwood, WA 98037 800-972-7000