Safe Harbor from Statewide Just Cause: Your Clock is Ticking
With the passage of HB 1236, by default, every tenancy in Washington is now subject to a for-cause termination requirement. Unlike Seattle's Just Cause Eviction Ordinance, the new state statute is more far-reaching in effect because it applies both to the end of fixed-term tenancy and to month-to-month agreements. Housing providers whose tenancies were in month-to-month terms as of 5/10/2021, have until September 30 to sign term agreements with those residents and exempt them from the for-cause termination restriction.
What is for cause termination?
For-cause termination under HB 1236 means that a housing provider must specify one of 16 "causes" to end a residential tenancy. This replaces Washington's no cause termination rules that allowed a housing provider to end a month to month tenancy for any reason or no reason at all provided the reason was not discriminatory or retaliatory. Likewise, it ends a housing provider's ability to choose whether to offer a new rental agreement when the current term expires; now, housing providers must either offer a new term or allow the tenancy to continue month-to-month unless they have one of the 16 causes (five of which carried over from previous law) or the tenancy is exempt from the regulation.
New "Just Cause" Termination Notice Requirements: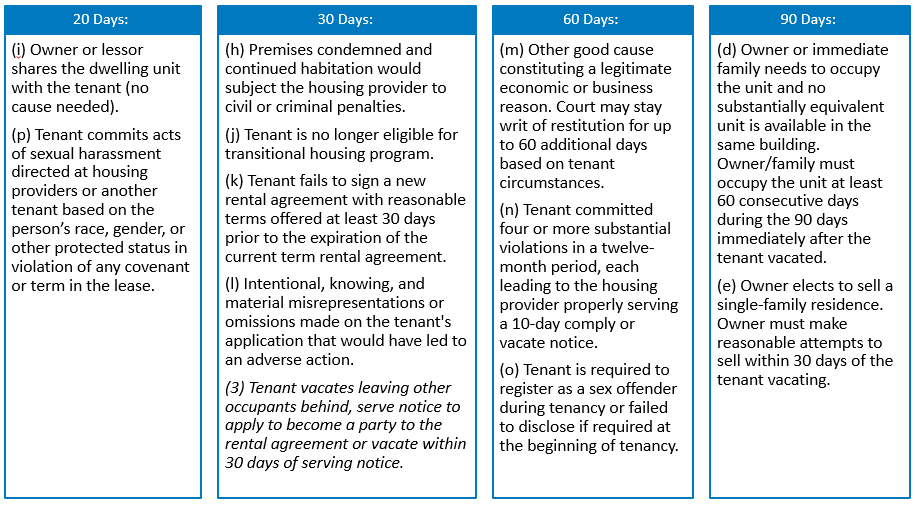 What tenancies are regulated?
By default, all residential tenancies receive for-cause termination restrictions effective May 10, 2021. This applies to both month-to-month and fixed-term agreements. A fixed-term agreement, regardless of the terms in the contract, will automatically convert into a month-to-month agreement subject to the for-cause restriction at the end of the term unless the housing provider gives a 60-day notice reminding the resident that the term is ending.
Tenancies are exempt from this requirement only if they maintain the strict restrictions explained in the graphic below for the entire life of the tenancy. This also means service of a 60 day notice of end of term every time a lease period ends is required, even if you simultaneously offer the resident a new term.
"Just Cause" Termination Exempt Tenancies: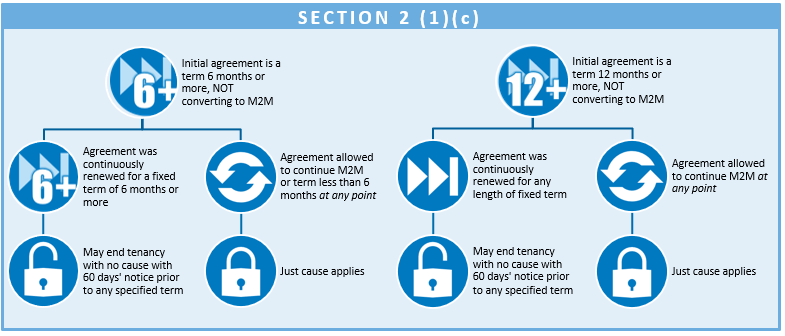 How to I take advantage of the "Safe Harbor" period?
Housing Providers can "convert" existing tenancies that were month-to-month on May 10, 2021, into exempt tenancies by entering a new lease with their residents provided (1) the agreement is six months or more; (2) it does not allow for a month-to-month term upon expiration; and (3) the resident signs the agreement by September 30, 2021. There is no way to require your resident to sign the agreement, so consider offering an incentive such as a discount on the rent or a one-time concession (such as a complementary window or carpet cleaning) to encourage the resident to sign. Make this offer in writing and provide the resident with a reasonable deadline, at least 30 days, to sign and still receive the incentive.
Do not threaten your resident with any type of retaliation if they choose to continue month-to-month and remember you cannot give a notice of rent increase (or offer a new term with higher rent) until July 1, 2021. If your tenancy becomes month-to-month any time after May 10, 2021, that tenancy is irrevocably subject to the for-cause termination restriction.
Safe Harbor period:
What are the new best practices to maintain an exempt tenancy?
Keeping a tenancy exempt from for-cause termination requires diligence. For all tenancies, the original and all renewal agreements must not have a month-to-month option. RHAWA has updated its leases to use separate agreements for term tenancies and month-to-month agreements to help reinforce this distinction. You and the resident must always sign a renewal (or end the agreement) before the current term ends. Depending on the length of the initial term, you may be required to exclusively use terms of six months or longer. Finally, you should serve a notice of end of term at least 60 days before the end of each term even if you are also offering the resident a renewal.
RHAWA will soon offer a new form, the Notice Regarding End of Term to facilitate this best practice recommendation. Housing Providers with exempt tenancies should always serve this notice between 61 and 90 days before the end of the term. The form notifies the resident of the expiring lease (thus preserving your exemption even if the resident takes no action) and gives you the option either to require them to vacate or to offer an extension.
To learn more about newly passed WA State laws, members can access New 2021 WA Rental Laws class here or subscribe to the full OnDemand library.