Back to Events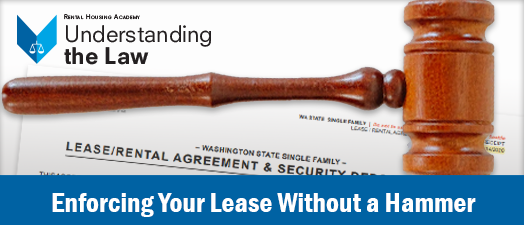 Enforcing Your Lease Without a Hammer
Thursday, November 12, 2020
10:30 AM - 12:00 PM (PST)
Event Details
Description: Under normal conditions, the Residential Landlord-Tenant Act provides legal remedies for both landlords and tenants to enforce the terms of their rental agreement. Under current emergency orders, the remedies for landlords have been effectively eliminated in Washington. While it is always preferable to resolve issues through amicable communication and negotiation, with most legal actions off the table, this is now the only way to resolve problems with tenants. Mediation Counsel, Roger Moss and Attorney, Maxwell Glasson will review and discuss best practices for resolving issues such as non-payment of rent, non-compliance with rules of tenancy, and refusal to agree to new terms.
---
RHAWA Members: Attend unlimited seminars for 12 months with one of our class pass options. Learn more here.
This session is offered as an ONLINE webinar only. After class, all participants will receive a link to recorded session and downloadable materials for review.
All written, presented and recorded content provided by RHAWA for this course are for the use of the participants enrolled in the course. Copyrighted course content may not be further disseminated.
Formal legal advice and review is recommended prior to selection and use of this information. RHAWA does not represent your selection or execution of this information as appropriate for your specific circumstance. The material contained and represented herein, although obtained from reliable sources, is not considered legal advice or to be used as a substitution for legal counsel.