Back to Events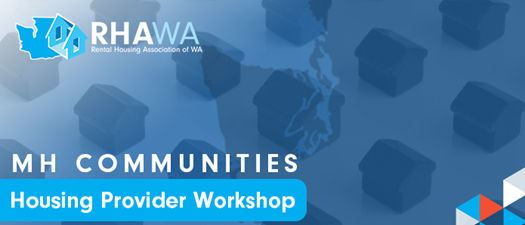 2021 MHC Housing Provider Workshop
For Manufactured Housing Community Owners and Managers
Wednesday, November 3, 2021
Event Details
RHAWA is building a new membership group for Manufactured Housing Community owners and managers. This free educational workshop led by industry leaders will focus on the most pressing issues for MHC housing providers at this time.
Now that some emergency order bans have been lifted, it's time to start using those community management best practices that have been restricted for the past year and half. Our panelists will review the laws and best practices related to:
Encouraging compliance with rules and regulations through timely communication and proper service of notices.

Getting back on track with routine home and lot maintenance, beginning with the 4-sided inspection.

Helping tenants get out of rental arrears following new laws by offering a reasonable payment schedule and working with your county Eviction Resolution Program.

A discussion of changes in the legal landscape.
Speakers:
Britt W. Donoho is an attorney in private practice specializing in representation of Manufactured Housing property management firms and community owners at Jack W. Hanemann P.S in Olympia. She attended Purdue University where she received a B.S. in psychology, and Washington University in St. Louis School of Law where she received her J.D. with honors. Prior to joining the RHAWA community, Britt practiced in Illinois and Missouri specializing in insurance defense, municipal law and civil litigation. She is currently working alongside attorney Deric N. Young, an experienced, but retiring attorney in the field, with a primary focus on Washington's manufactured homes landlord tenant act. Through this expertise and her prior practice, she presents a fresh perspective on the array of issues present in the community, along with experience and understanding of the new, and everchanging laws and proclamations in this field.
Joel Erlitz has owned and operated MHCs in Washington, Oregon, Idaho, and Montana for 42+ years. He has been appointed twice by Governors as an industry representative on State funded task forces. He has managed communities for a select client base including private investors, Court-appointed Guardianships and Washington State's Insurance Commissioner. He currently owns six communities in two NW states, including Idaho State's MHC of the year 2004. He has been politically active in state politics as it affects the MHC industry. He was hired by lending institutions, developers and by legal counsel to provided expert testimony on issues relating to management, ownership and lending practices of MHCs. Prior to his involvement with manufactured housing communities, Mr. Erlitz studied and taught at Washington State, Ohio State, and Ohio University for his PhD, Masters and BA respectively.
Theresa Janzen grew up in the manufactured housing community environment. A life-long resident of manufactured homes, developer of her own communities, and administering communities for others, she has been a strong leader in the industry for 38+ years. She has served as President, Government Relations Chair, Treasurer, Secretary and other board positions in manufactured housing industry trade associations in the State of Washington. She has also served on industry advisory committees and working groups regarding landlord-tenant issues, dispute resolution and septic system regulations. Theresa currently is the sole owner of two manufactured housing communities and has a majority interest in two other communities in Thurston County.
Michael McLaughlin is the managing partner of Michael D. McLaughlin, PLLC in Tacoma, Washington. Since 2014, Michael's practice focuses on providing comprehensive legal counsel to landlords of manufactured housing communities including transactional matters and in litigation. Michael has successfully represented housing providers on a wide array of legal matters, including unlawful detainers and federal and state housing complaints. His passion is serving small business owners and providing clients with effective and efficient legal counsel, creating solutions with an emphasis on sustainability and profitability in the housing sector.
RHAWA Members: Attend unlimited seminars for 12 months with one of our class pass options. Learn more here.
---
You must REGISTER to attend (click Register Now above).
This session is offered ONLINE only. After class, all participants will receive a link to recorded session and downloadable materials for review.
All written, presented and recorded content provided by RHAWA for this course are for the use of the participants enrolled in the course. Copyrighted course content may not be further disseminated.
Formal legal advice and review is recommended prior to selection and use of this information. RHAWA does not represent your selection or execution of this information as appropriate for your specific circumstance. The material contained and represented herein, although obtained from reliable sources, is not considered legal advice or to be used as a substitution for legal counsel.
Members can subscribe to the Annual Class Pass with dues renewal. Contact education@RHAwa.org for more information.
---
Presenting Sponsor:

---
Sponsor: