Back to Events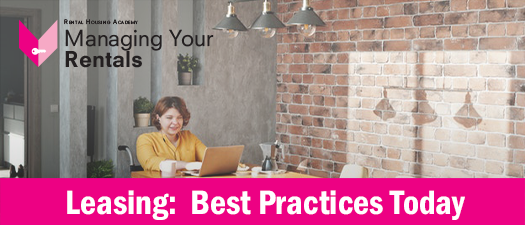 Leasing: Best Practices for Today
Wednesday, March 17, 2021
Event Details
In the past, leasing was usually a straightforward process. You met the tenant at the property, did a walk-thru, received a check, signed the lease and turned over the keys. Today with distance and virtual leasing, these steps have become jumbled, risking serious legal and financial repercussions. In this one-hour session, experienced rental operations professional, Cory Brewer will outline best practices for the lease signing process that take advantage of time-saving technology without forfeiting a great start to the tenancy or protections under the law.
This session is offered ONLINE only. After class, all participants will receive a link to recorded session (accessible for 30 days) and downloadable materials for review.
All written, presented and recorded content provided by RHAWA for this course are for the use of the participants enrolled in the course. Copyrighted course content may not be further disseminated.
Formal legal advice and review is recommended prior to selection and use of this information. RHAWA does not represent your selection or execution of this information as appropriate for your specific circumstance. The material contained and represented herein, although obtained from reliable sources, is not considered legal advice or to be used as a substitution for legal counsel.
Members can subscribe to the Annual Class Pass with dues renewal. Contact education@rhawa.org for more information.