Back to Events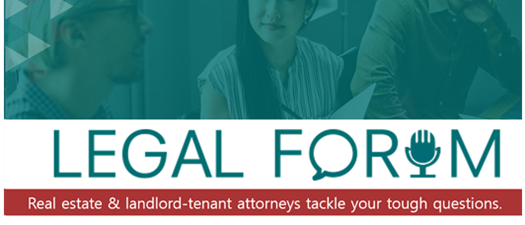 Legal Forum
Wednesday, September 16, 2020
10:00 AM - 12:00 PM (PDT)
Event Details
PRESENTATION
Attendees were able to ask questions of our panel of real estate, business and landlord-tenant attorneys what their recommended best practices are when dealing with the new legal landscape. Whether you wanted more information on the laws themselves, explanations of how to use new notices, or what the new legal definitions of things such as "rent" and "roommates" are, we've had you covered. What you'll learn at this webinar will save you both money and time in the long run.
---
PANELISTS
Our panelists have decades of experience between them in a wide range of legal disciplines, ensuring they'll be able to tackle your tough questions.
Christopher T. Benis is "of counsel" to the law firm of Hecker Wakefield & Feilberg, with offices in Seattle, WA. Mr. Benis attended the University of Washington, where he received a B.A. in Political Science, a Master of Urban Planning and J.D. from its School of Law. He represents property management firms, individual real estate investors, real estate brokerages, industry trade associations, design professionals, and construction companies. He advises his clients on practical and understandable solutions to their legal needs and concerns.

Chris is a regular speaker and author on topics related to property management. He currently serves as Legal Counsel for the Rental Housing Association of Washington (RHAWA) and is a past-President of the organization. He is currently on RHAWA's Executive Committee and chairs the Education Committee and Legal Defense Fund.

He has spoken at TRENDS, The Washington State Rental Housing Management Convention, since 1994. He is a regular presenter to the Washington Association of Realtors (WAR), the Institute of Real Estate Management (IREM) and the National Association of Residential Property Managers (NARPM), and is frequently invited to speak throughout Washington state on Real Estate, Brokerage, Property Management and Crime Free Housing topics.

His children, now as "third generation" real estate investors, carry on the family tradition of actively owning and managing rental properties.
Julie is a Managing Partner of Dimension Law Group. Her practice focuses on Estate Planning, Probate & Trust Administration, Business Law and Commercial & Residential Real Estate, including Landlord-Tenant matters. Julie works with real estate investors, small business owners, and families comprehensively in these areas of law. She lends special attention to the tax complexities that real property investors face with estate planning.
Julie grew up with her family owning an accounting practice that sparked her interest in the intricacies that owning a business can bring to planning for the future. Coming from a family of property investors herself and personally experiencing the negative effects of insufficient estate planning, she now has a passion for helping people properly plan to avoid as much family conflict and tax as possible. She regularly advises clients on a variety of business issues as well, including business formation, contract drafting, business disputes, and succession planning.
Julie's personal background and experience as an investor, entrepreneur, and attorney allow her to approach her clients with the knowledge of the challenges facing small business owners when it comes to navigating the legal world. Julie aims to personally connect with each client and ensure that all their legal needs are taken care of.
Julie received her Juris Doctorate degree from Seattle University School of Law and her Bachelor's Degree in Humanities from Seattle University. Prior to Dimension Law Group, she worked as an estate planning attorney for several Seattle area law firms.
Julie is on a mission to help individuals and businesses create, build, and pass down their legacy by helping them plan now for the future. In addition to RHAWA. She also teaches courses on the topics of estate planning and business law in her local community, most recently at the Federal Aviation Administration and her parish, where she also participates in other volunteer activities.
Julie is a member of the Washington State Bar Association and King County Bar Association. She is also admitted to the United States District Court for the Western and Eastern District of Washington.
In her free time, Julie spends time with her family which includes her two young sons that keep her busy and enjoying all the Pacific Northwest.
Bryan "Craig" Gourley founded the Gourley Law Group in 1991. He has over thirty years of experience, focusing on real estate, taxation, condominium projects, construction and business law.
Craig graduated with multiple degrees in law, accounting and business. Before opening his own firm, he contributed his talents to a prestigious Big 8 accounting firm in taxation and business, and then went on to join one of Washington's top law firms in tax and real estate. In 1991 Craig decided to focus his energy on developing his own firm. Realizing that with technology, he could run a successful " downtown" practice without actually having to be " downtown". Craig represents clients from all over Washington and has been involved with several major development projects in Seattle and well as medical office and multi family projects in Kitsap, Chelan, Spokane, Yakima, Skagit, Whatcom and Thurston Counties, just to name a few.
Considered a leading authority on Section 1031 Tax Deferred Exchanges, Craig has been invited to speak on the topic to industry organizations throughout the US and has contributed articles to several national publications.
When not in the office Craig can usually be found somewhere near water. Boating, diving or fishing.
---
This event was presented ONLINE. Participants should have received a link to recorded session and downloadable materials for review.
All written, presented and recorded content provided by RHAWA for this course are for the use of the participants enrolled in the course. Copyrighted course content may not be further disseminated.
Formal legal advice and review is recommended prior to selection and use of this information. RHAWA does not represent your selection or execution of this information as appropriate for your specific circumstance. The material contained and represented herein, although obtained from reliable sources, is not considered legal advice or to be used as a substitution for legal counsel.