Back to Events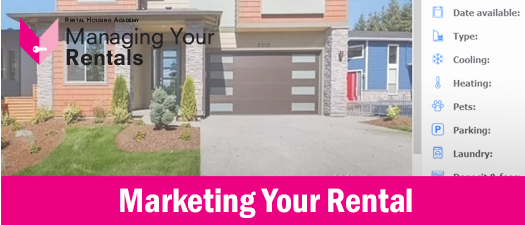 Marketing Your Rental
Get the best tenant within market rent
Wednesday, February 19, 2020
Event Details
Description: Marketing your rental is more than posting an ad. You'll need to do some research and set a competitive rent. Create photos that highlight the best features of your property. Include compelling details in your ad and make sure it's posted on the most popular rental websites. Select a process for showing your property that results in qualified applicants. Learn all of this and more in this one-hour webinar.
Instructor: Enrique Jevons owns and operates Jevons Property Management Business. With 100 rental units of his own and 600+ units for other owners, Enrique Jevons has a tremendous amount of depth and experience in Yakima County and King County. He'll share insider tips and best practices for getting the most out of your marketing efforts.
---
RHAWA Members: Attend unlimited seminars for 12 months with one of our class pass options. Learn more here.
This session is offered as an ONLINE webinar only. After class, all participants will receive a link to recorded session and downloadable materials for review.
All written, presented and recorded content provided by RHAWA for this course are for the use of the participants enrolled in the course. Copyrighted course content may not be further disseminated.
Formal legal advice and review is recommended prior to selection and use of this information. RHAWA does not represent your selection or execution of this information as appropriate for your specific circumstance. The material contained and represented herein, although obtained from reliable sources, is not considered legal advice or to be used as a substitution for legal counsel.