Back to Events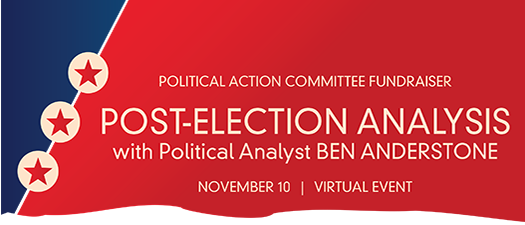 Post-Election Analysis with Political Analyst Ben Anderstone
Tuesday, November 10, 2020
Event Details
Description: RHAWA Government Affairs Director Kyle Woodring and Washington Landlord Association Lobbyist Chester Baldwin will join Political Analyst Ben Anderstone for this special event. They will offer a recap 2020's political landscape, guide you through the results from election night and what those results means for Washington State and the nation. This discussion will be followed by a brief Q&A session. Event ticket sales benefit RHAWA's Political Action Committee.
SPEAKERS
Born and raised in Tacoma, Wash., Ben cut his teeth on local politics at a young age. During college, he worked on a range of local campaigns, from state legislature to domestic partnerships. Ben graduated from the University of Puget Sound with a degree in Politics & Government and joined the PSNW team in March 2014. Ben is also a regular contributor of political analysis to Seattle's Crosscut, as well as television and print media.

In his spare time, Ben is involved with the Downtown Seattle Association Residents Council, West Edge Neighborhood Association, and other organizations. He's also a nerd of many passions, from demography to pop music history. Ben lives near Seattle's historic Pike Place Market.
Mr. Baldwin is a lobbyist and attorney in private practice at Baldwin Legal Group, PLLC representing clients at the Legislature and with agencies of government. He has built strong relationships with lawmakers in House and Senate Leadership and members of each caucus to facilitate the priorities of his clients. Mr. Baldwin's business experience along with his degrees in Healthcare, Finance, Business Computer Information Systems, and Law make him uniquely positioned to facilitate unified solutions on a broad range of client issues. He routinely facilitates meetings with lawmakers, reviews and drafts legislation, and testifies before the Legislature.
Mr. Baldwin graduated from the University of Washington Foster School of Business with Honors, earning a Bachelor of Arts degree in Finance and Business Computer Information Systems and concurrently earned a Bachelor of Science degree in Environmental Health from the UW School of Public Health and Community Medicine. After graduating, he worked as a financial analyst and healthcare consultant for Mercer Human Resource Consulting before attending Seattle University School of Law where he earned his Juris Doctorate, graduating with Honors. Mr. Baldwin is a member of the Washington State Bar Association and the Thurston & Pierce County Bar Associations and is also admitted to practice in Federal Court.
Mr. Baldwin has worked in private practice in Olympia for over a decade after beginning his career as a Rule 9 Prosecutor with the Thurston County Prosecuting Attorney's Office. Baldwin Legal Group specializes in protecting clients' rights including work on business, property rights, and select criminal cases. He also represents homeless youth in Juvenile Court pro bono.
As a lobbyist in Olympia, Mr. Baldwin represents a diverse group of clients, associations, and industries dedicated to serving their members. In fact, with his lobbying partner Mark Gjurasic, Chester provides lobbying and legal services to more real estate industries and associations than any other lobbyist in the state of Washington. His real estate lobbying clients include: The international shopping center industry; The state commercial office building industry; A commercial developers association; A statewide landlord association, The state self-storage association, WA Habitat for Humanity, and several others. Mr. Baldwin works with lawmakers, state agencies, and county and city governments to solve his client's issues and protect their industries from burdensome regulation and tax consequences.
Mr. Baldwin represents Habitat for Humanity pro bono at the legislature and regularly defends juvenile and veteran cases pro bono. He is an Eagle Scout and has volunteered with Boy Scouts of America.
Kyle is Director of Government Affairs at RHAWA. He has worked both in opposition and in concert with local governments, state agencies, and a variety of special interest groups to negotiate many impactful policy issues. He is a private landlord and manages rental properties in Thurston and Mason Counties.
---
THIS IS A SPECIAL PAC FUNDRAISER EVENT, NOT INCLUDED IN CLASS PASS SUBSCRIPTION. Event ticket sales benefit RHAWA's Political Action Committee
This session is offered as an ONLINE webinar only. After event, all participants will receive a link to recorded session.
---
All written, presented and recorded content provided by RHAWA for this event are for the use of the registered participants. Copyrighted content may not be further disseminated.
Formal legal advice and review is recommended prior to selection and use of this information. RHAWA does not represent your selection or execution of this information as appropriate for your specific circumstance. The material contained and represented herein, although obtained from reliable sources, is not considered legal advice or to be used as a substitution for legal counsel.