Back to Events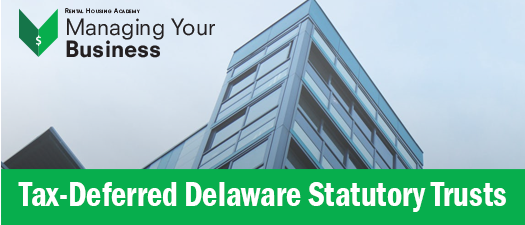 Tax-Deferred Delaware Statutory Trusts
Thursday, February 18, 2021
Event Details
Thinking about selling your rental property but have concerns about your potential tax liability? Washington property owners can pay as much as 28.8% in taxes. The good news is that you can defer, reduce, and even eliminate paying taxes by utilizing a tax-deferred Delaware Statutory Trust (DST). In this session, learn about Delaware Statutory Trusts, how they work, who uses them, why they are used, the benefits vs. the risks, and what replacement property options are available to Accredited Investors.* Instructor, Austin Bowlin, CPA - Partner at Real Estate Transition Solutions advises investment property owners on the mechanics and tax-considerations of 1031 Exchanges and provides exit strategy analysis, transition planning and execution, and replacement property options available.
*An Accredited Investor is an individual with a net worth (excluding primary residence) of $1,000,000+ or annual income in excess of $200,000 for the last two years for an individual or $300,000 for a couple filing jointly.
This session is offered ONLINE only. After class, all participants will receive a link to recorded session (accessible for 30 days) and downloadable materials for review.
All written, presented and recorded content provided by RHAWA for this course are for the use of the participants enrolled in the course. Copyrighted course content may not be further disseminated.
Formal legal advice and review is recommended prior to selection and use of this information. RHAWA does not represent your selection or execution of this information as appropriate for your specific circumstance. The material contained and represented herein, although obtained from reliable sources, is not considered legal advice or to be used as a substitution for legal counsel.
Members can subscribe to the Annual Class Pass with dues renewal. Contact education@rhawa.org for more information.