Back to Events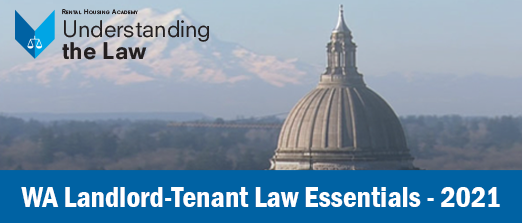 WA Landlord-Tenant Law Essentials - 2021 (CRE 3hrs)
Navigating Legal Risk in Washington Rentals
Wednesday, September 1, 2021
Event Details
With over 30 years practicing landlord-tenant law, and over 40 years owning and managing Seattle area rental property, RHAWA legal counsel Chris Benis will highlight important best practices for Washington housing providers while explaining related landlord-tenant laws, both old and new. Whether you are a seasoned landlord, or new to the business, do not miss this chance to get invaluable guidance as you approach today's challenges when operating a rental property in Washington State.
3 CRE Clock Hour Certificate Available for licensed Real Estate Brokers.
This session is offered ONLINE only. After class, all participants will receive a link to recorded session and downloadable materials for review.
All written, presented and recorded content provided by RHAWA for this course are for the use of the participants enrolled in the course. Copyrighted course content may not be further disseminated.
Formal legal advice and review is recommended prior to selection and use of this information. RHAWA does not represent your selection or execution of this information as appropriate for your specific circumstance. The material contained and represented herein, although obtained from reliable sources, is not considered legal advice or to be used as a substitution for legal counsel.
Members can subscribe to the Annual Class Pass with dues renewal. Contact education@RHAwa.org for more information.
---