Increased Demand, Property Tax Hikes, Utility Increases, and Year of Lost Rent
Date posted
August 13, 2021
In many places across the state, rents are still below pre-pandemic levels, yet costs for housing providers have continued to rise. Those increased costs directly impact the cost of rent.
Rent increases occur when housing costs including utilities, taxes, and maintenance go up. COVID-19 and eviction bans have also played a significant role. Housing providers were barred from raising rents for well over a year while shouldering the burden of housing residents who could not or would not pay rent. Even if one out of 10 renters isn't paying rent, it can have a profound impact on a housing provider considering most of rent goes toward operating costs.
With the ban of raising rents lifted in Washington state, housing providers must now make adjustments to cover increased costs and months of nonpayment of rent.
Rising rents, driven largely by costs and macro trends, do not necessarily result in increased profits for housing providers. 90 cents of every dollar of rent goes to costs like property taxes, maintenance, and utilities. Only ten cents returns to the housing provider. As costs like taxes go up, so does the cost of rent. Some rental housing providers have not received rent payments from residents for several months due to the eviction moratorium yet were still required to make property tax payments.
Breaking down one dollar of rent: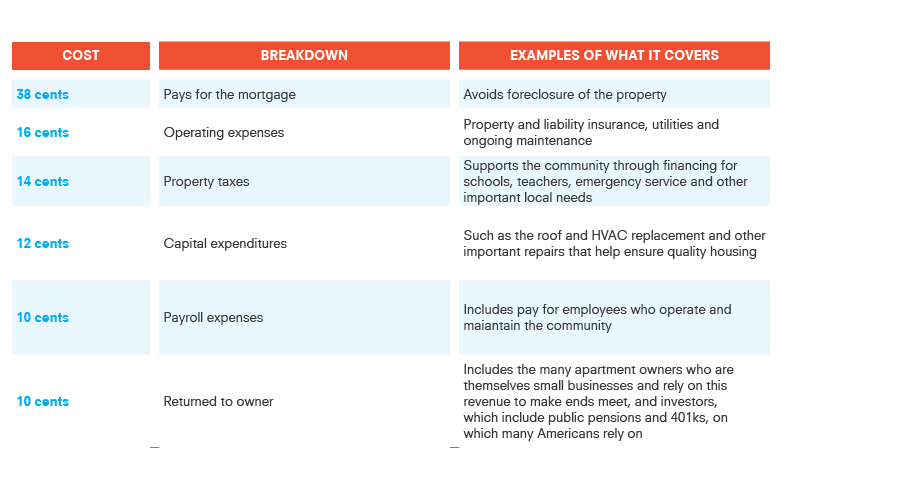 Rising property taxes
Washington state residents in several counties saw increases in their property taxes in April. In two counties, Pierce and King, where housing costs have risen most over the last decade, property tax rates continue to skyrocket. These taxes must be paid and must be factored into the cost of providing housing. They have a direct impact on the cost of rent and are a contributing factor to increasing housing costs.
Increasing utility costs
Additionally, starting next year, Seattle residents and businesses will see their electricity bills go up by an average of 3.5% annually for the next five years. Seattle residents could also see a more than 20% increase in the city's combined water, sewage, solid waste, and drainage rates by 2026.
Long-Term and Immediate Solutions
Millions of dollars in rental assistance are sitting in government accounts across the state despite the massive need for help. Counties across the state should expedite the delivery of assistance to residents who need help. Long-term, state and local policymakers need to prioritize the creation of housing. The biggest barrier to housing creation are exclusionary zoning policies that restrict housing creation, reduce supply, and increase costs for everyone.