Now, Get Answers When You Need Them
Date posted
August 31, 2021
With emergency orders and new legislation coming at us from the State Legislature, Seattle City Council, and all the many cities and counties joining the cause, RHAWA's Resource Desk staff have been working overtime to keep our information up-to-date and answer member questions as quickly as possible. Even so, I am sorry to say, it has been difficult to keep up. In response to this growing demand for member support, we are introducing an enhanced Support Center experience powered by ZenDesk, a leading application trusted by successful organizations around the world to facilitate customer support.
RHAWA's new members-only Support Center provides quick access to a growing library of articles to help you find answers to your questions about member services, fair housing laws, landlord-tenant laws, and best practices for operating rental housing in Washington State. Article content will be frequently reviewed and updated by industry experts including RHAWA staff, attorneys, and property management professionals.
The new system comes with a handy Support Center Bot that will suggest articles based on a question or phrase you enter. How can I raise rent? How fast do I need to fix a broken refrigerator? What do I do if a tenant says their unauthorized dog is an emotional support animal? Now you can get answers instantly by typing your question into the Support Center Bot. In most cases, the Bot will immediately suggest one or more article titles. Simply click on the title to read the short article and find your answer. If the suggested articles do not answer your question, the Bot can send a message to our Support Center staff who will respond to you as soon as possible. Just click on the Get in touch button and leave a message.
Our primary goals driving this service introduction are to:
Provide instant self-help answers to most member questions any time day or night.
Reduce the response time for more complicated questions submitted to Support Center staff.
Assist RHAWA staff in routing questions to the appropriate person and ensure all questions are answered in a timely fashion.
Improve the accuracy and consistency of information provided to members.
Due to the rapidly changing laws and related high inquiry volumes, our staff currently takes up to 2 business days to respond to member inquiries. You can help us reduce response time by looking for self-help answers before sending a message. We hope you find this new service helpful and user-friendly. Please reach out to us with any questions or suggestions for improving the system or the self-help content.
How to Access the new members-only Support Center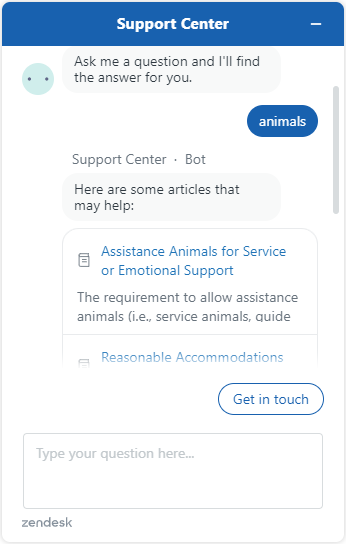 Login to rhawa.org:
Navigate to Resources/Support Center (https://www.rhawa.org/support-center).
Click on the button "Access Support Center". This will open the Support Center page in a new web browser tab.
Browse the articles to look for information needed or click on the Support button in the lower right corner of the page to open the Support Center Bot.
Type your question into the Bot message window where it says "Type your question here.."
In most cases, one or more article titles will appear above the message window. Click on the article titles to read. To read the article full screen, click the button in the upper right corner of the Bot.
The Bot will ask "Does this article answer your question?" You can respond by clicking "Yes" or "No, I need help". By answering, you will help us improve our articles.
At any time, you can click the Get in Touch button and then select "Leave a message" to ask RHAWA Support Center staff to respond to your question.
Your question will then become a ticket that we can assign to the appropriate staff member or team to answer. The system will let us know if there are open tickets that need to be resolved and you will be able to view your history of messages with staff in your Support Center profile.