Renton Residential Rental Registration and Inspection Ordinance
Date posted
December 6, 2018
On December 3, 2018 the Renton City Council held a first reading of Ordinance 5913 or RMC 4.5.125, the Residential Rental Registration and Inspection Program. Renton City Council was going to hear to the second reading of the Rental Registration Inspection program at the regularly scheduled City Council meeting on January 14, 2019 and a vote was possible, but it will instead discuss the program during the Committee of the Whole
Meeting details -- view agenda here
Members of the public can attend the Committee of the Whole, but no public comment is allowed. The meeting will also be recorded.
Monday, January 14 at 5pm
Renton City Hall - 1055 S Grady Way, Renton 98057; 7th Floor
RHAWA is supportive of this targeted approach towards rental housing inspections because it provides an infrastructure for the City to address failing rental properties without disrupting or overburdening the broader rental market. However, while generally supportive of the ordinance, there are lingering concerns with a few details.
​Chief among those concerns is a registration requirement which is disproportionately costly for the small business or mom-and-pop rental owner. RHAWA is asking Renton City Council to hold off a final vote until the blanket $150 registration fee can be revised to a more equitable, tiered model that considers the disproportionate burden the fee has on single family and small unit count owners.
RHAWA asks its members to contact Renton City Council to ask that this fees structured is corrected.
Below is a graph of Renton's fee structure compared to the City of Bellingham and the City of Seattle: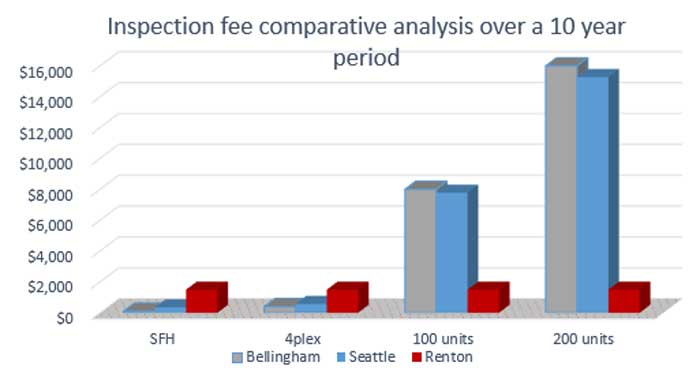 A tiered fee structure is the most equitable option. City resources required to inspect a single family unit compared to a 100 or 200 unit property are not proportional. For these reasons, RHAWA supports a tiered fee structure for rental registration requirements.
RHAWA would also like to thank Renton City staff for making a concerted effort to work with private rental housing providers on the new Registration and Inspection program, and we look forward to collaborating on education and outreach to rental owners.
In general, the final draft of Renton's Registration and Inspection proposal incorporates much of the feedback and recommendations made by RHAWA and rental housing business input. In fact, Renton's model is similar to Tacoma's complaint driven model where a certificate of inspection is only required if a tenant requests an inspection and the city finds that the landlord has failed to fulfill an obligation required under RCW 59.18.060.
This ordinance is an example of how a collaborative effort between government and business interests can result in a smart policy prescription.