Back to Events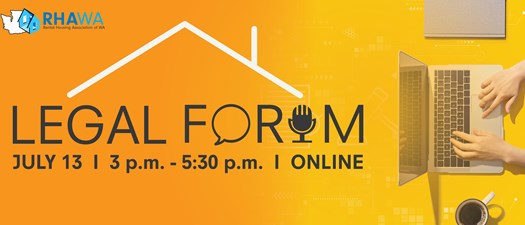 2022 Legal Forum
Hear attorneys discuss your questions.
Wednesday, July 13, 2022
Event Details
Now that the COVID moratoriums are finally over, we have woken up to a new and puzzling reality. Conflicting state and local laws changed everything from lease renewals to rent payment enforcement. Contradictory and unclear language make it difficult to predict how case law will unfold over the coming years. This is your chance to hear three attorneys, currently practicing landlord-tenant, real estate and business law across Washington, discuss your most difficult questions. Experienced property management professional and housing provider rights advocate, Cory Brewer will moderate questions and lead the discussion.
We are no longer accepting pre-submitted questions. Questions submitted in the live Zoom session will be addressed as time allows in order received.
---
HOST
Cory Brewer
|
Cory Brewer, Lori Gill & Associates | Windermere Property Management
Cory Brewer is the VP of Residential Operations at Windermere Property Management / Lori Gill & Associates. His career as a real estate professional in the Greater Seattle Area dates back to 2003. In his role at WPM/LGA, his primary responsibilities include training, legal compliance, and conflict resolution for a brokerage representing over 1,500 rental houses and condos throughout King & Snohomish Counties. He is also a member of the RHAWA Board of Directors, and the NARPM State & Local Government Affairs Committee.
PANELISTS
Christopher Cutting

| Attorney, Cutting Law Office & Owner, LT Services, RHAWA Vice President

Christopher is known as a tireless advocate for housing providers.  He has been practicing residential and commercial landlord-tenant law, judgment enforcement, and appeals since 2009.  Christopher currently serves on the Board of Directors for the Rental Housing Association of Washington, is the 2021 Vice President of the organization, and is the Co-Chairman of their Legislative Committee. He is a frequent presenter at legal education courses hosted by state and local bar associations and private groups and is a licensed clock hours instructor for Washington Real Estate Brokers.  Christopher has also been the author or co-author of housing provider's official responses to several legal and legislative actions.
Julie Martiniello
|
Attorney, Dimension Law Group PLLC
Julie Martiniello has focused her practice primarily on trusts & estates, real estate, and business transactions for the past 11 years. She has paid particular consideration to property investors due to her own personal experiences and her knowledge of the financial landscape of real estate. Julie is passionate about helping her clients plan for the future and building a legacy by guiding them with proper business formation and maintenance, succession planning, and comprehensive estate planning. Julie takes a global approach with each client to ensure that every part of their legal and financial life are geared for the future.
Eric M. Steven
|
Attorney, Steven Law Office
Eric M. Steven is the principal attorney at Steven Law Office in Spokane with a practice emphasis in the area of landlord-tenant relations and housing. He regularly handles cases brought or opposed by tenant advocacy groups, and is acting counsel for numerous property owners, landlords, management companies, mobile home parks, subsidized housing providers, and the Spokane Housing Authority. He is active in legislative reform and frequently lectures to attorneys, property managers, law enforcement, and owners at continuing legal education programs. In 2021 Mr. Steven was awarded as a "Friend of Fair Housing" by the Northwest Fair Housing Alliance.

Donate to the Legal Defense Fund so we can continue to defend your rights
RHAWA's Legal Defense Fund (LDF) is the only landlord association-managed fund in the state which serves to protect the legal rights and interests of rental property owners like you. Our fight for fair and equal protection under the law depends solely upon the generosity of our membership. Without your financial support we can't afford the high costs of defending your private property rights to ensure your financial future is secure. Your contribution is tax deductible as a business expense.
---

This session is offered as an ONLINE webinar only.
After the session, all participants will receive a link to recording and downloadable materials for review.
All written, presented and recorded content provided by RHAWA for this course are for the use of the participants enrolled in the course. Copyrighted course content may not be further disseminated.
Formal legal advice and review is recommended prior to selection and use of this information. RHAWA does not represent your selection or execution of this information as appropriate for your specific circumstance. The material contained and represented herein, although obtained from reliable sources, is not considered legal advice or to be used as a substitution for legal counsel.