Back to Events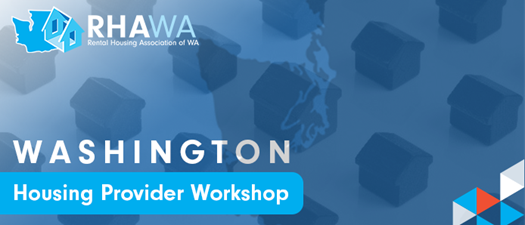 2021 Washington Housing Provider Workshop
Learn all about new 2021 laws
Wednesday, May 12, 2021
Event Details
Learn everything you need to know about renting out a home in the Washington, including new 2021 State laws, all relevant Federal laws, how to ensure you are following specific local laws*, and best practices for efficient operations. This four-hour workshop will include the following segments:
Getting Ready to Rent: Finding your local laws including registration and inspection requirements, setting policies, and more.
Finding a Tenant: Fair and effective screening practices, "Section 8" voucher programs, criminal history assessment, new protects based on

Transitioning from Moratorium

and more.
Signing the Rental Agreement: Property condition and the security deposit, selection of rental agreement terms and the effects of new

Just Cause

laws.
Working with Tenants: Best practices and notices to encourage compliance with terms, notices to increase rent/change rules, new laws on

Transitioning from Moratorium

and more.
Managing Move Outs: New

Just Cause

notice periods, security deposit accounting, and more.
*This class will not cover Seattle laws in depth. Seattle Housing Providers are encouraged to attend the Seattle Housing Provider Workshop in September 2021.
---
Speakers:
Christoher Cutting
Christopher is known as a tireless advocate for housing providers. He has been practicing residential and commercial landlord-tenant law, judgment enforcement, and appeals since 2009. He is a six-time "Rising Star" attorney in Super Lawyers magazine and holds a perfect 10.0 rating from Avvo.com. Christopher currently serves on the Board of Directors for the Rental Housing Association of Washington, is the 2021 Vice President of the organization, and is the Co-Chairman of their Legislative Committee. Christopher works with numerous housing provider's groups to provide input on state and local legislation; he has testified on landlord-tenant relations and law before the Tacoma City Council and the Washington Legislature.
Cory Brewer
Cory Brewer is the VP of Residential Operations at Windermere Property Management / Lori Gill & Associates. His career as a real estate professional in the Greater Seattle Area dates back to 2003. In his role at WPM/LGA, his primary responsibilities include training, legal compliance, and conflict resolution for a brokerage representing over 1,500 rental houses and condos throughout King & Snohomish Counties. He is also a member of the RHA Board of Directors, and the NARPM State & Local Government Affairs Committee.
Kaitlyn Jackson

Kaitlyn is an Associate Attorney at Dimension Law Group, PLLC. Kaitlyn's practice focuses on Business Law, Commercial and Residential Real Estate, Landlord-Tenant matters, and Estate Planning. She currently serves on the Board of several non-profits, including the Executive Board of Highline Schools Foundation. In addition, Kaitlyn is heavily involved in leadership roles within Highline Soccer Association. Kaitlyn received her Juris Doctorate from Seattle University School of Law and two Bachelor's Degrees from Seattle University. Prior to attending law school, Kaitlyn gained important legal experience as a paralegal at several large and mid-size law firms. Kaitlyn is passionate about helping people, families, and businesses navigate estate planning, business, and the ever-changing commercial and residential real estate markets. She is a member of the Washington State Bar Association.
Sarah Fried
Sarah currently serves as Community Manager for Dobler Management Company and has worked in the Multi-Family Housing industry for about 15 years, encompassing military housing, affordable, and market rate housing. She currently manages a 300-apartment home community for Dobler Management Company, Inc. Sarah has a passion for people, for continuous learning, and for educating the public and lawmakers on the need for good housing providers.
This session is offered ONLINE only. After class, all participants will receive a link to recorded session and downloadable materials for review.
All written, presented and recorded content provided by RHAWA for this course are for the use of the participants enrolled in the course. Copyrighted course content may not be further disseminated.
Formal legal advice and review is recommended prior to selection and use of this information. RHAWA does not represent your selection or execution of this information as appropriate for your specific circumstance. The material contained and represented herein, although obtained from reliable sources, is not considered legal advice or to be used as a substitution for legal counsel.
Members can subscribe to the Annual Class Pass with dues renewal. Contact education@RHAwa.org for more information.
---
Presenting Sponsor: