Back to Events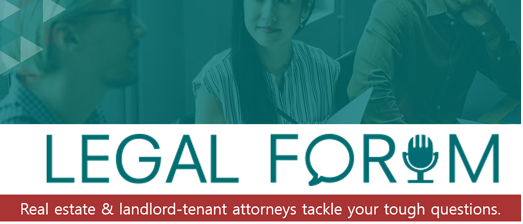 Legal Forum 2021
SPECIAL PAC FUNDRAISER EVENT
Wednesday, July 14, 2021
Event Details
This year, more than any previous year in the history of Washington's housing industry, legal questions abound. The passing of HB 1236 and SB 5160 has left housing providers and attorneys on both sides puzzled. Contradictory and unclear language will make it difficult to predict how case law will unfold over the coming years. This is your chance to hear four attorneys, currently practicing landlord-tenant and real estate law, discuss your most difficult questions.
Pre-submitted questions are no longer accepted as of the day before the event. Attendees will be able to type questions live in Zoom webinar.
Chris Benis
Attorney, Housing Provider, and RHAWA Legal Counsel
Chris practices law with First Avenue Law Group, PLLC in Seattle, WA representing property management firms, individual real estate investors, and others in the real estate industry. He attended University of Washington, where he received a B.A. in Political Science, a Master of Urban Planning and J.D. from its School of Law. Chris led his own law firm for 28 years before joining First Avenue Law Group a few years ago. He represents property management firms, individual real estate investors, real estate brokerages, industry trade associations, design professionals, and construction companies. He advises his clients on practical and understandable solutions to their legal needs and concerns. Chris is a regular speaker and author, drawing from over 30 years' experience as a "second generation" real estate investor. He serves as Legal Counsel for RHAWA and is a past-President of the organization.
Kaitlyn Jackson
Attorney and Housing Provider
Kaitlyn is an Associate Attorney at Dimension Law Group, PLLC. Kaitlyn's practice focuses on Business Law, Commercial and Residential Real Estate, Landlord-Tenant matters, and Estate Planning. She currently serves on the Board of several non-profits, including the Executive Board of Highline Schools Foundation. In addition, Kaitlyn is heavily involved in leadership roles within Highline Soccer Association. Kaitlyn received her Juris Doctorate from Seattle University School of Law and two Bachelor's Degrees from Seattle University. Prior to attending law school, Kaitlyn gained important legal experience as a paralegal at several large and mid-size law firms. Kaitlyn is passionate about helping people, families, and businesses navigate estate planning, business, and the ever-changing commercial and residential real estate markets. She is a member of the Washington State Bar Association and an active member of RHAWA, frequently teaching classes on landlord-tenant law.
Carol Li
Attorney and Real Estate Broker
Carol Li is an associate at Cutting Law Office PC. Carol's practice focuses on real estate and landlord-tenant law. She is currently serving as an associate editor of the Newsletter Editorial board and a fellow for the Executive Committee of the Washington State Bar Association Real Property, Probate, and Trust Section. Carol is also an active participant with the King County Bar Association and Asian Bar Association. Prior to joining Cutting Law Office, Carol spent a full year as a volunteer attorney at Snohomish County Legal Services Housing Justice Project handling residential landlord-tenant issues. Carol has also worked as a short sale negotiator, residential financing consultant, and real estate broker. Carol is an active member of National Association of Realtors and Asian Real Estate Association of America. Carol is bilingual, fluent in Mandarin speaking and writing.
Eric Steven
Attorney
Eric M. Steven is the principal attorney at Steven Law Office in Spokane with a practice emphasis in the area of landlord-tenant relations and housing. He regularly handles cases brought or opposed by tenant advocacy groups, and is acting counsel for numerous property owners, landlords, management companies, mobile home parks, subsidized housing providers, and the Spokane Housing Authority. He is active in legislative reform and frequently lectures to attorneys, property managers, law enforcement, and owners at continuing legal education programs. In 2021 Mr. Steven was awarded as a "Friend of Fair Housing" by the Northwest Fair Housing Alliance.
---
RHAWA Members: Attend unlimited seminars for 12 months with one of our class pass options. Learn more here.

THIS IS A SPECIAL PAC FUNDRAISER EVENT, NOT INCLUDED IN CLASS PASS SUBSCRIPTION. Event ticket sales benefit RHAWA's Political Action Committee.
This session is offered as an ONLINE webinar only. After event, all participants will receive a link to recorded session
---
All written, presented and recorded content provided by RHAWA for this event are for the use of the registered participants. Copyrighted content may not be further disseminated.
Formal legal advice and review is recommended prior to selection and use of this information. RHAWA does not represent your selection or execution of this information as appropriate for your specific circumstance. The material contained and represented herein, although obtained from reliable sources, is not considered legal advice or to be used as a substitution for legal counsel.