Back to Events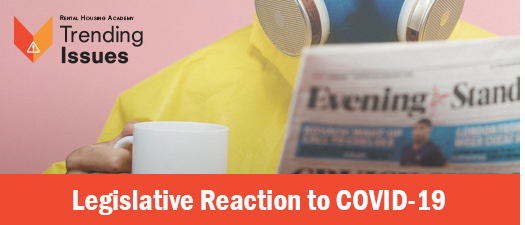 Legislative Reactions to COVID-19
Wednesday, June 10, 2020
Event Details
The COVID-19 pandemic is causing disruptions to the lives of many, and housing providers are no exception. Political ramifications for the rental housing industry are many and continue to evolve at a rapid pace. Join RHAWA Government Affairs Director Kyle Woodring for a breakdown of the Governor's emergency orders for rental housing to lean what's happening now, steps to take to comply, and what discussions are occurring at the local and the state levels which inform us as to what the rest of 2020 might look like for housing providers.
---
RHAWA Members: Attend unlimitted seminars for 12 months with one of our class pass options. Learn more here.
For More Information:
Denise Myers
Director of Learning
Rental Housing Association of Washington
(206)905-0614
This session is presented ONLINE ONLY. After class, all participants will receive a link to recorded session and downloadable materials for review.
All written, presented and recorded content provided by RHAWA for this course are for the use of the participants enrolled in the course. Copyrighted course content may not be further disseminated.
Formal legal advice and review is recommended prior to selection and use of this information. RHAWA does not represent your selection or execution of this information as appropriate for your specific circumstance. The material contained and represented herein, although obtained from reliable sources, is not considered legal advice or to be used as a substitution for legal counsel.