Back to Events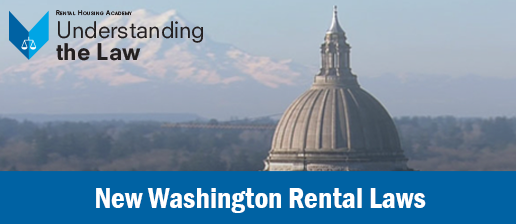 New 2021 Washington Rental Laws
Moving from Moratorium to Just Cause
Wednesday, May 19, 2021
Event Details
Did you miss this class? Purchase access to this class here or Subscribe to Full OnDemand Library.
Since January, Washington State legislature, and stakeholders like RHAWA have been working to find a compromise on legislation to provide a responsible ramp down from the COVID eviction moratorium. With the passing of HB 1236, Just Cause terminations is now a statewide law. Other changes will also be explained. In this 90-minute session, attorneys Kaitlyn Jackson and Chester Baldwin will take you through the new laws and how they will affect your rental operations policies and procedures.
Kaitlyn Jackson
Kaitlyn is an Associate Attorney at Dimension Law Group, PLLC. Kaitlyn's practice focuses on Business Law, Commercial and Residential Real Estate, Landlord-Tenant matters, and Estate Planning. She currently serves on the Board of several non-profits, including the Executive Board of Highline Schools Foundation. In addition, Kaitlyn is heavily involved in leadership roles within Highline Soccer Association. Kaitlyn received her Juris Doctorate from Seattle University School of Law and two Bachelor's Degrees from Seattle University. Kaitlyn is passionate about helping people, families, and businesses navigate estate planning, business, and the ever-changing commercial and residential real estate markets. She is a member of the Washington State Bar Association.
Chester Baldwin

Chet is a lobbyist and attorney in private practice at Baldwin Legal Group, PLLC representing clients at the Legislature and with agencies of government. He has built strong relationships with lawmakers in House and Senate Leadership and members of each caucus to facilitate the priorities of his clients. Chet's business experience along with his degrees in Healthcare, Finance, Business Computer Information Systems, and Law make him uniquely positioned to facilitate unified solutions on a broad range of client issues. He routinely facilitates meetings with lawmakers, reviews and drafts legislation, and testifies before the Legislature.
This session is offered ONLINE only. After class, all participants will receive a link to recorded session (accessible for 30 days) and downloadable materials for review.
All written, presented and recorded content provided by RHAWA for this course are for the use of the participants enrolled in the course. Copyrighted course content may not be further disseminated.
Formal legal advice and review is recommended prior to selection and use of this information. RHAWA does not represent your selection or execution of this information as appropriate for your specific circumstance. The material contained and represented herein, although obtained from reliable sources, is not considered legal advice or to be used as a substitution for legal counsel.
Members can subscribe to the Annual Class Pass with dues renewal. Contact education@rhawa.org for more information.