Back to Product Store
Selection and Use of Leasing Forms
Education | Recorded Sessions of Popular Past Events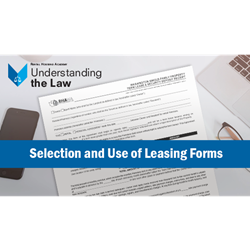 In this class, Attorney Chris Benis reviews the new options for RHAWA rental agreement and term lease forms and explains how to select various options to reflect the specifics of your property and operating preferences. He will also review required and optional lease-signing addenda and those that can be used to update your agreement throughout the tenancy.
After purchase, you will receive an email with links to access the course content.
NOTE: This class is also included in the OnDemand Library subscription.
---