GRASSROOTS ADVOCACY & LEGISLATIVE SESSION PREVIEW
Date posted
January 4, 2023
The 2023 Legislative Session begins on January 9, 2023, which is just around the corner. We are looking forward to YOU joining our events and legislative calls-to-action to amplify the voice of small housing providers, educate lawmakers, and support rental housing in Washington. The 2023 Legislative Session begins on January 9, 2023, which is just around the corner. We are looking forward to YOU joining our events and legislative calls-to-action to amplify the voice of small housing providers, educate lawmakers, and support rental housing in Washington.

This year we will undoubtedly see an onslaught of regulations targeting housing providers, many of which we have seen before. Ideas are already being discussed and a strategic plan developed well before the opening day of the legislative session. Rent control, further restriction including increased notice periods, and eliminating late fees are just a few examples of the policies that we are preparing to take on for small housing providers. We will need your help now more than ever as we not only fight to stop these harmful regulations, but also push for things that will help housing providers, such as electronic notices and statewide preemption. The solution to bad housing policy is to not only stop the harmful legislation, but to promote and bolster legislation that will make it easier to provide housing. Improving a small housing providers ability to run their business will keep small providers in the market, reduce costs, make it easier to negotiate lease terms, and encourage a more cooperative rental housing environment. The legislative problems we currently face can be solved in Olympia with legislation and RHAWA is always looking to find these solutions and spread our ideas. But, of course, our success with these goals is dependent on you being involved, joining us, and sharing your voice. Together we can make the difference!


GRASSROOTS ADVOCACY

Grassroots advocacy is necessary to defend the rights of housing providers. As we are reminded by our President and Executive Director Sean Flynn, one housing provider's testimony is worth ten of our lobbyists. While some of you might be nervous to give testimony or speak to your lawmakers, we strive to make it as easy as possible, from one click registration to speak, to having our staff, lobbyists and fellow housing providers give advice and feedback on your testimony, it's never been easier to share your experience with the lawmakers. Learning how to effectively advocate on your own behalf during session will also help teach you the skills necessary to engage with local issues as well. It is difficult to understand and follow every local issue that arises in city councils but learning how to interpret and present talking points during Legislative Session will ensure that you are fully prepared for anything that may come down the line in your local jurisdiction. Again, it is essential for these lawmakers to hear your lived experiences so they can truly understand the needs and struggles of small housing providers.

In addition to harnessing the voices of our members, we must ensure that all facets of the rental housing industry work together to create a robust and effective grassroots advocacy effort.


RHAWA has brought together property managers, rental housing owners, manufactured housing owners, and industry professionals from across the state to form the Rental Housing Association Coalition (RHAC). Members of the coalition will be invited and included in our Legislative Session preparation in order to present a unified voice in our advocacy efforts.
LEGISLATIVE EVENTS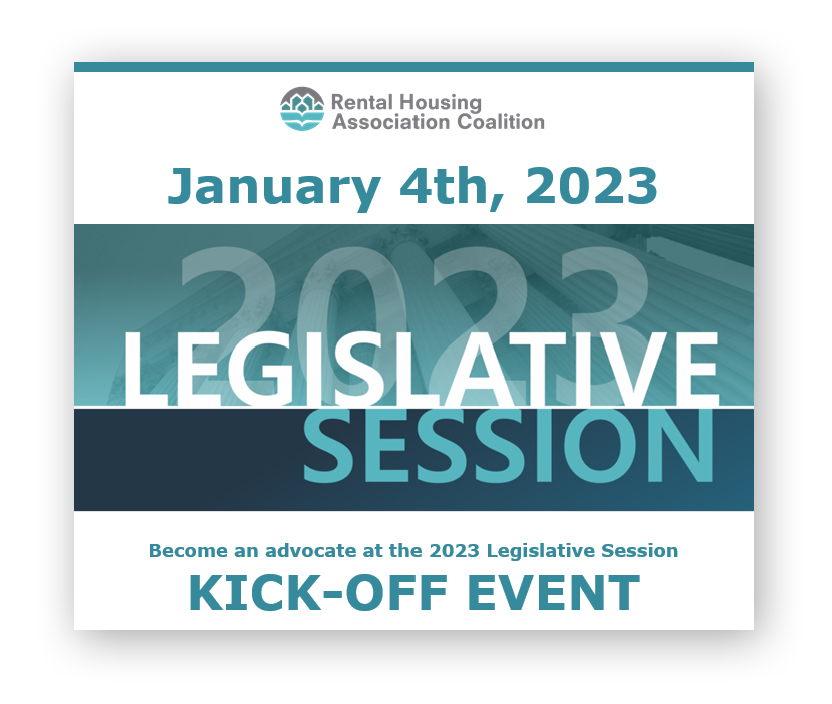 Legislative Session Kickoff
When: January 4 | 6 - 7:30 pm
Register: RHAwa.org/events
Cost: FREE to Attend
Location: ONLINE Only
Join RHAWA government affairs team and lobbyists, Chester Baldwin and Jim Henderson, to discuss the upcoming legislative session with lawmakers who work hard to support us on the hill. You can help drive the solutions to our challenges by advocating for policies that build a healthy housing economy for all, so don't miss this opportunity to learn how to get involved. Make your voice heard and join us in defending your rights as a housing provider.
Please note: Registering for the kickoff event will automatically register you for all other Legislative Session events.

How State Laws Are Made
When: Thursday, January 5 | Noon - 1 pm
Cost: FREE to Attend
Location: ONLINE Only
If the old cartoon from Schoolhouse Rock is the extent of your knowledge, use your lunch hour to learn how bills are proposed and passed into State law in Olympia. Following curriculum provided by the State legislature, Chester Baldwin will explain the official lawmaking procedures from drafting to voting in both chambers, and how things really work through the legislative biennium.

Briefing Rooms
Staff and lobbyists will be available to consult with you two hours before any critical hearings in the Virtual Briefing Room throughout the session. They can assist you with signing up for your remote committee testimony and help you prepare your speaking points prior to your appointment.

Weekly Online Meet-Up
Hop into our Monday morning meet-up to learn what the most pressing bills are for the week. You will receive an event reminder with a join link prior to each meet-up.

Legislative Session Recap
This event will discuss the 2023 Legislative Session from start to finish. We will be going over our hardest fights, biggest opportunities, and key takeaways. Don't miss this opportunity to peek behind the curtain and figure out not just what happened, but why it happened. Learn what messaging is effective and how we can bolster our grassroots advocacy efforts. We will also be talking about what comes next, and how to prepare for the upcoming elections.

COMMUNICATIONS

Calls to Action
Watch your inbox for hearing announcements, upcoming events, and Calls-to-Action! Content from this coalition is developed and approved by our RHAC leadership advocacy team. All Calls-to-Action and advocacy updates will include a way to submit written testimony, or a link that will grant you easy access to the sign-up process.

Advocacy Center
The Advocacy Center is your go-to resource to make sure you're ready to participate in our advocacy efforts. This page is continually updated with our most up-to-date campaign.


SESSION PREVIEW

The 2023 legislative session will kick off on Monday January 9, 2023, in Olympia with most lawmakers and most staff returning in person after a 2-year COVID hiatus. During that 2-year hiatus all Legislative meetings and activity has been done remotely, over Zoom. Most people are excited to be returning in person and to have the opportunity to sit together with lawmakers and discuss our important issues.
The coming session will likely bring many challenges for our small housing providers as the State looks for ways to keep rents down and tenants in housing. And with at least 25 new lawmakers in 2023, this means that we have a lot of work to do in educating these new members about the challenges facing small housing providers. This is a big opportunity for RHAWA and small housing providers to develop and build relationships with your local lawmakers, these lawmakers really care about what you think. Through your participation in the Rental Housing Association Coalition, we will provide you with the information and talking points for each of the housing bills that will have hearings during the upcoming legislative session. We will also help make it as easy as possible for you to reach out to your lawmakers with our crafted messages to educate them on housing provider issues.

While we won't see any official legislation under much closer to the start of session, we know that there will be a HUGE effort to pass a rent control policy for WA state. We remain the only state on the West Coast that does not have a statewide rent control policy and your participation in the Rental Housing Association Coalition has been the driving force behind stopping rent control… and with your help we are going to stop rent control again in 2023! In addition to rent control, we expect to see legislation again this coming session attempting to put the ARCH provisions into state law including:
Notice of Rent Increase – Require at least 120 days' written notice of rent increases >3%, and 180 days' notice of rent increases >10%, except in subsidized housing.
Limits on Late Fees – Cap on fees for late payment of rent at 1.5% of a monthly rent.
Limits on Move-In Fees – Cap on move-in fees and security deposits of no more than one month's rent except in subsidized tenancies and allow tenants to pay in installments.

The election will determine the final makeup of the legislature, but RHAWA is a bipartisan organization which has supported candidates from both sides of the aisle because anyone who understands what it is to be a small housing provider, especially in these times, is a friend of ours and someone that we want to continue to educate and build relationship with. We need to help lawmakers to understand that historically, small mom-and-pops housing providers have been the only source of naturally affordable housing units in the State and now because of the Explosion of New Housing Laws since 2017, those units are quickly leaving the market. And rent control and other regulations will Increase rents and reduce housing supply. The dramatic increase in regulation and legislation on small housing providers has taken its toll, and small housing providers are leaving the market by the thousands. While no statewide data exists to show the full magnitude of rental housing units lost, Seattle data exists, and the recent rash of laws targeting small housing providers has caused thousands to sell their units and flee the market. Seattle alone has lost more than 2,400 single family rental homes in the last year (Seattle RRIO Study). Also, there will likely be additional legislation to attempt to regulate housing providers in various way. Unfortunately, the root problem is underfunding and undersupply of affordable housing by governments at every level.

In addition to defending against harmful legislation, we intend to work with a bipartisan group of lawmakers to introduce proactive legislation as well. We believe that working on legislation to allow electronic notices is a WIN/WIN for housing providers and tenants alike and that there is lawmaker support for carefully making a change like this. Additionally, the Residential Landlord-Tenant Act (RLTA) was established in 1973 and was meant to balance the duties and responsibilities of housing providers and tenants, unfortunately, over the past handful of years the changes to that Act has had the effect of unbalanced the scales and has made many processes unworkable. There needs to be considerable work done in modernizing and fixing the RLTA in a more holistic way to address many legitimate concerns that now exist. Finally, we will be working with lawmakers to educate them on how beneficial a State Rental Assistance Program would be if that program were stackable with Section 8 and accessible to assist community members experiencing a financial hardship or needing a hand up. It could help low-income tenants bridge the gap between financial need and market rents, especially in Seattle and the Puget Sound.
---
LEARN MORE & TAKE ACTION

2023 LEGISLATIVE BILLSThis blog category filters 2023 legislative session bill summaries and related articles.
READ SUMMARIES >

JOIN THE GRASSROOTS EFFORT


Contact electeds about legislative bills directly through out Advocacy Center.



TAKE ACTION >