Back to Events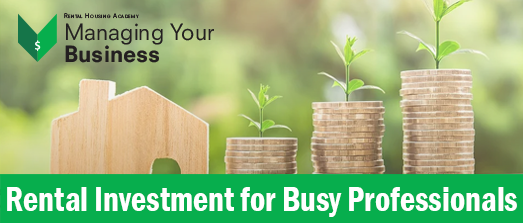 Rental Investment for Busy Professionals
Wednesday, February 23, 2022
Event Details
Investing in rental housing can be lucrative, but it comes with a myriad of risks and often requires a significant time commitment. As any investor knows, there is a lot involved, like finding markets and analyzing properties, engaging with agents, lenders, inspectors, and property managers, managing maintenance, taxes, insurance, and mortgage payments. If you have capital to invest but your time is limited, learn best practices for finding the best investment properties, structuring your offer, validating estimates, closing the deal and setting up reliable management. Jamie Nacht, CEO and Co-founder of Havium, Inc. will review and discuss their streamlined process and best practices that make it easy for the working professional to invest in real estate.
RHAWA Members: Attend unlimited seminars for 12 months with one of our class pass options. Learn more here.
This session is offered ONLINE only. After class, all participants will receive a link to recorded session (accessible for 30 days) and downloadable materials for review.
All written, presented and recorded content provided by RHAWA for this course are for the use of the participants enrolled in the course. Copyrighted course content may not be further disseminated.
Formal legal advice and review is recommended prior to selection and use of this information. RHAWA does not represent your selection or execution of this information as appropriate for your specific circumstance. The material contained and represented herein, although obtained from reliable sources, is not considered legal advice or to be used as a substitution for legal counsel.
Members can subscribe to the Annual Class Pass with dues renewal. Contact education@rhawa.org for more information.