Back to Events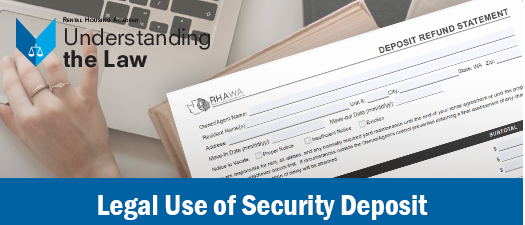 Legal Use of Security Deposit
Wednesday, April 7, 2021
Event Details
A general security deposit can normally be used to pay for any outstanding debt owed by the tenant to the landlord. Unfortunately, it is easy to make mistakes under the intricacies of various laws governing rental property security deposits. This includes a new rule under the emergency moratorium that requires offering a payment plan before using the deposit to pay rental arrears. Attorney, Maxwell Glasson will review all the state and local laws governing the security deposit as well as best practices to follow when collecting and completing refund accounting at move out.
This session is offered ONLINE only. After class, all participants will receive a link to recorded session (accessible for 30 days) and downloadable materials for review.
All written, presented and recorded content provided by RHAWA for this course are for the use of the participants enrolled in the course. Copyrighted course content may not be further disseminated.
Formal legal advice and review is recommended prior to selection and use of this information. RHAWA does not represent your selection or execution of this information as appropriate for your specific circumstance. The material contained and represented herein, although obtained from reliable sources, is not considered legal advice or to be used as a substitution for legal counsel.
Members can subscribe to the Annual Class Pass with dues renewal. Contact education@rhawa.org for more information.