Back to Events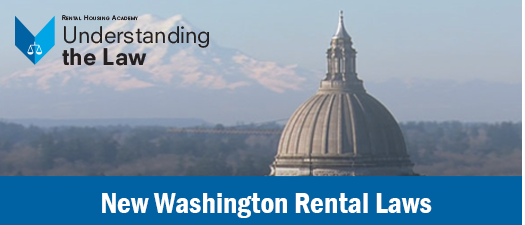 New Washington Rental Laws I ONLINE ONLY
Thursday, October 24, 2019
Event Details
Description: Learn the details of four state legislature bills that will went into effect at the end of July, 2019. Attorney Christopher Cutting will explain the sweeping changes to the eviction process in Washington State, as well as many other changes impacting standard notice periods and how tenant payments are processed. Best practices to protect your business under the new laws will be discussed.
Instructor: Christopher Cutting is an experienced instructor who makes it easy for landlords to understand and apply legal principles in daily practice. As the principal of Cutting Law and owner of LT Services, he practices commercial and residential landlord-tenant litigation as well as appeals and judgment enforcement in Western Washington. He regularly publishes articles on a variety of legal topics in real property law including several trade publications as well as in both the Phoenix Law Review and the Seattle University Law Review.
---
RHAWA Members: Attend unlimitted seminars for 12 months with one of our class pass options. Learn more here.
This class is offered as an ONLINE webinar only. After class, all participants will receive a link to recorded session and downloadable materials for review.
All written, presented and recorded content provided by RHAWA for this course are for the use of the participants enrolled in the course. Copyrighted course content may not be further disseminated.
Formal legal advice and review is recommended prior to selection and use of this information. RHAWA does not represent your selection or execution of this information as appropriate for your specific circumstance. The material contained and represented herein, although obtained from reliable sources, is not considered legal advice or to be used as a substitution for legal counsel.