Back to Events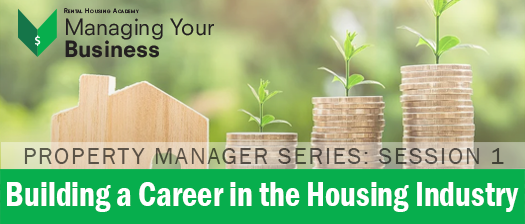 PM Series-01: Building a Career in the Housing Industry
Thursday, January 18, 2024
Event Details
With this class, we kick off a new 12-part series designed for Property Managers in Washington State.
In this session, you will learn best practices for developing a successful and satisfying career in the housing industry. We will explore:
Various career opportunities in the industry and how to develop a career as a real estate professional.

Education and licensing requirements in Washington State.

Standards for professional appearance, behaviors, and communication.
Instructor: Lawton Coursey
---
This session is offered as an ONLINE webinar only.
After class, all participants will receive a link to recorded session and downloadable materials for review.
All written, presented and recorded content provided by RHAWA for this course are for the use of the participants enrolled in the course. Copyrighted course content may not be further disseminated.
Formal legal advice and review is recommended prior to selection and use of this information. RHAWA does not represent your selection or execution of this information as appropriate for your specific circumstance. The material contained and represented herein, although obtained from reliable sources, is not considered legal advice or to be used as a substitution for legal counsel.
---
Event Cancellation and other policies https://www.rhawa.org/cancellation-policy.