Back to Events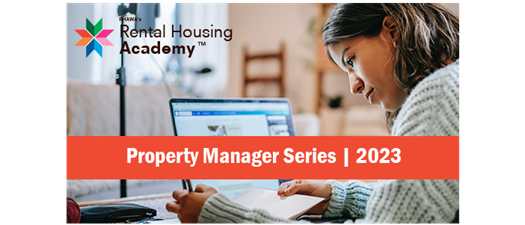 Property Manager Series Discount Package on Sale!
Register for entire series here by February 7th to save!
Thursday, November 17, 2022
at
12:00 AM (PST)
to Tuesday, February 7, 2023 at 11:55 AM (PST)
* Registration open until 2/6/23 at 11:55 PM ()
Event Details
This new series designed specifically for Property Managers meets each Thursday at noon beginning on February 9th. All PM Series live virtual class sessions will be available to all members to attend individually for $30 or attend the entire series for just $160. Ticket options are also available for Freemium subscribers and guests.
Schedule of topics:
Building a Career in the Housing Industry: Understand various career opportunities in the industry and how to develop as a housing provider professional, standards for personal appearance, behaviors, and communication.
Workplace Ethics: Harassment Prevention, Diversity/Equity/Inclusion, Reporting Unethical Behaviors.
Fair Housing Basics: Protected Class Discrimination, Retaliation/Harassment, Disability Accommodations.
Understanding Your Market: Technology and methods for conducting an accurate market survey, evaluating your property, setting rent based on analysis of comparable properties, monitoring and managing company reputation.
Advertising and Sales: Where to advertise, tips and best practices using various platforms, writing appropriate and effective ad copy, effective marketing photography, understanding the relationship sales process.
Working with Prospective Tenants: Responding to inquiries, showings, explaining rental terms and screening criteria, evaluating applications, giving adverse action notice for denials, following all fair housing laws.
Leasing and Move-in: Reviewing lease terms and setting expectations, welcoming new tenants, move-in logistics.
Tenant Relations: Responding/following up to issues and maintenance requests, building relationships creating a sense of community, reporting incidents, maintaining documentation, and taking corrective action.
Partnering with Community Resources: Establish positive working relationships with local organizations that support tenants, including the Housing Authority and charitable organizations.
Managing Rents and Fees: Securing and processing lease renewals, giving notice to increase rent in compliance with local laws, charging and collecting fees appropriately.
Eviction Laws and Procedures: Understand eviction procedures for rules compliance and non-payment, best practices when preparing for court, what to expect in court.
Housing Industry Legislation: Recent/pending legislative changes, Stakeholder responsibilities, Partnering with government and advocacy groups.
Buy your series ticket by January 31 here to attend all twelve classes and save $200 (or more)!
...Or register for individual sessions on the calendar, each Thursday at Noon.
All sessions in this series are included in the Annual Class Pass. Class Pass holders should register for individual classes as usual.
This series is offered as as ONLINE only. After class, all participants will receive a link to recorded session and downloadable materials for review.
All written, presented and recorded content provided by RHAWA for this course are for the use of the participants enrolled in the course. Copyrighted course content may not be further disseminated.
Formal legal advice and review is recommended prior to selection and use of this information. RHAWA does not represent your selection or execution of this information as appropriate for your specific circumstance. The material contained and represented herein, although obtained from reliable sources, is not considered legal advice or to be used as a substitution for legal counsel.
---
Event Cancellation and other policies https://www.rhawa.org/cancellation-policy.