Back to Events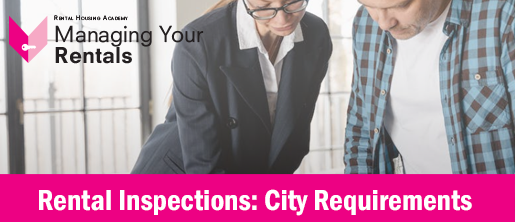 Rental Inspections: City Requirements
Thursday, February 2, 2023
Event Details
Periodic professional inspections are highly recommended in all your rental properties – both to ensure you are meeting legal responsibilities and to protect your property value. Many cities in Washington require periodic inspections, usually on a lottery basis. Each of these local inspection programs are different and have unique checklists and criteria. Professional home inspector, Lisa Lotus of Taurus Home Inspections frequently completes these required rental inspections for housing providers in the cities of Seattle, Tukwila and Burien. In this class, she will review how these programs work, the criteria for passing the inspections, common failures, and how to correct. Information on registration and inspection programs statewide will be included in the class materials.
---
RHAWA Members: Attend unlimited seminars for 12 months with one of our class pass options. Learn more here.
This session is offered ONLINE only. After class, all participants will receive a link to recorded session and downloadable materials for review.
All written, presented and recorded content provided by RHAWA for this course are for the use of the participants enrolled in the course. Copyrighted course content may not be further disseminated.
Formal legal advice and review is recommended prior to selection and use of this information. RHAWA does not represent your selection or execution of this information as appropriate for your specific circumstance. The material contained and represented herein, although obtained from reliable sources, is not considered legal advice or to be used as a substitution for legal counsel.
Members can subscribe to the Annual Class Pass with dues renewal. Contact dmyers@RHAwa.org for more information.
---
Event Cancellation and other policies https://www.rhawa.org/cancellation-policy.