Back to Events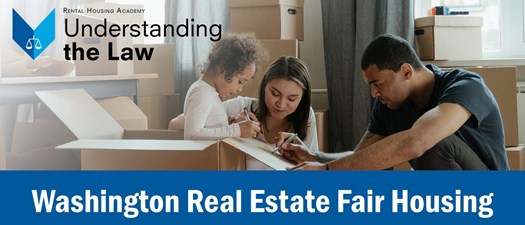 Washington Real Estate Fair Housing (NARPM)
Class held live on 11/8/2022 - Extended for unregistered attendees to pay
Tuesday, November 8, 2022
Event Details
SB 5378, effective June 1st, 2022, requires education on Fair Housing for new real estate broker licensees and renewals, and applies to all real estate brokers and managing brokers. The first active renewal after June 1st, 2022, must include the 6-hour Washington Real Estate Fair housing class. With every renewal afterward, licensees must complete a 3-hour course. For more information, click here.
This three-part, six-hour course will cover the historical and societal context of housing discrimination, legal framework intended to prevent housing discrimination, and steps to take to prevent housing discrimination. Brokers must complete all six (50-minute) clock hours to meet the new state requirement for continuing education.
This event is presented by NARPM King County. Contact Lawton Coursey at lawton.coursey@thejosephgroup.com for all inquiries.
Agenda
November 8
9:00 AM - 9:05 AM

Welcome

9:05 AM - 10:20 AM

Part 1: Historical and Societal Context

Instructor: Mike Chin, Seattle Office of Civil Rights Enforcement Director (75 min.)
10:20 AM - 10:30 AM

Break

10:30 AM - 12:10 PM

Part 2: Legal Framework

Instructor: Chris Benis, Attorney (100 min.)
12:10 PM - 12:40 PM

Lunch

12:40 PM - 2:45 PM

Part 3: Role of the Broker

Instructor: Cory Brewer, VP of Residential Operations at Windermere Property Management / Lori Gill & Associates (125 min.)
2:45 PM - 3:00 PM

Closing
This session is offered ONSITE only.
All written, presented and recorded content provided by RHAWA for this course are for the use of the participants enrolled in the course. Copyrighted course content may not be further disseminated.
Formal legal advice and review is recommended prior to selection and use of this information. RHAWA does not represent your selection or execution of this information as appropriate for your specific circumstance. The material contained and represented herein, although obtained from reliable sources, is not considered legal advice or to be used as a substitution for legal counsel.
---
Event Cancellation and other policies https://www.rhawa.org/cancellation-policy.