Property Management (PM) Member Benefits
RHAWA serves independent rental property owners and managers with industry-leading benefits, including advocacy, leases + forms, a resource desk, education and events, and more. Find detailed information about member benefits and rates and membership upgrades below. This membership is designed for those who manage properties owned by others.
Industry-Leading Member Benefits
Dues are based on the number of rental units managed. Licenses provide access to the RHAWA website and products only available to members. Each member assigned a license on the account requires their own unique login and password as an extra layer of security to protect your privacy and information.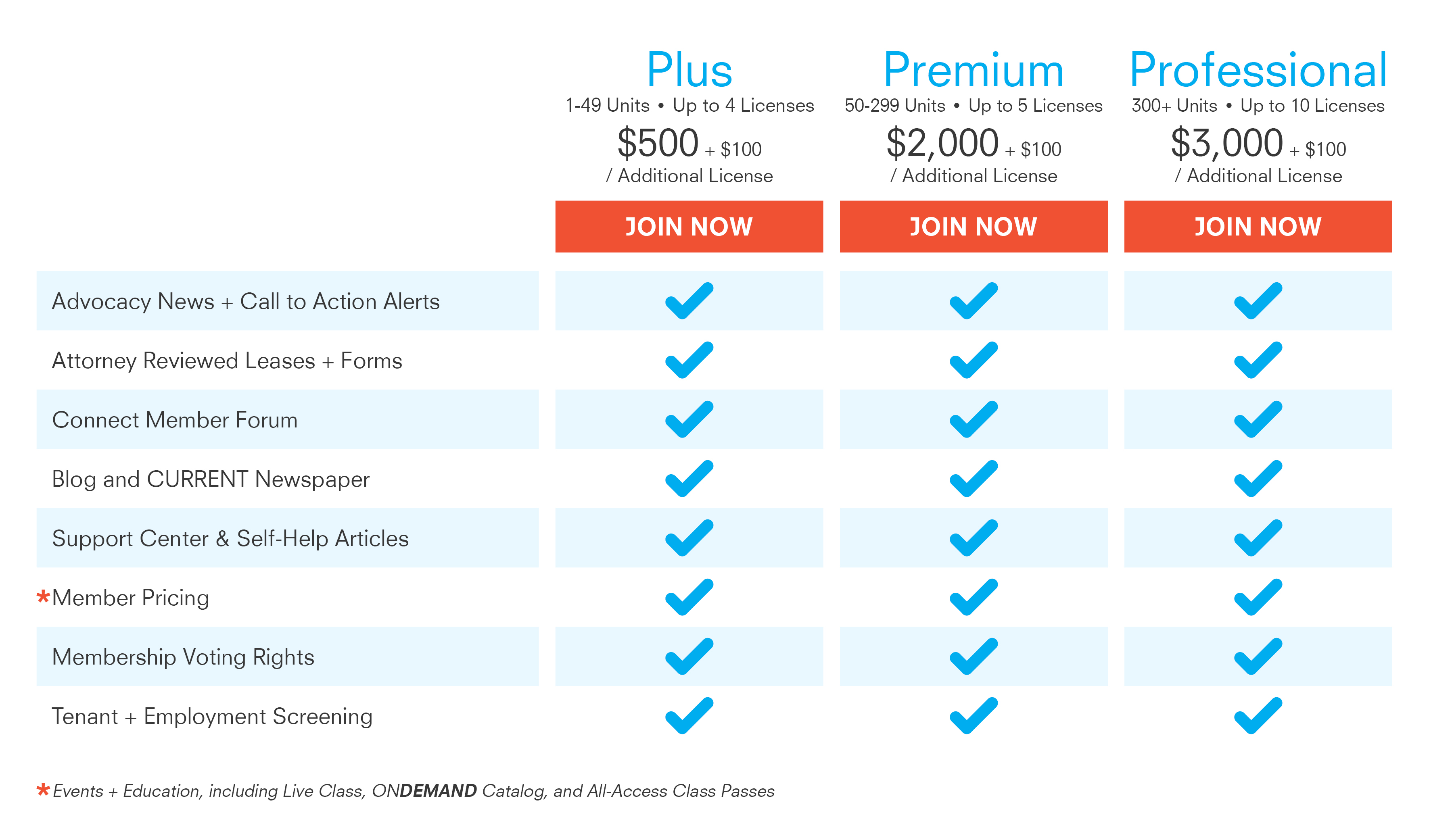 We advocate for legislation that will promote the rental housing industry and protect the rental independent rental owner and managers. Our strong government advocacy program engages local and state agencies. We take the time to educate elected officials about the challenges facing the industry and stand up for the rights of rental property owners.

Members have unlimited access to an extensive library of online forms, ensuring that you stay current with industry standards and laws. RHAWA leases and forms are tailored specifically to state and city laws unique to Washington and are updated as laws change. Our forms are also reviewed annually by an independent attorney with over 30 years of landlord-tenant law experience. LEARN MORE >

RHAWA offers a wide range of resources to help you manage your rental with ease and fulfillment, including:
Blog: Content within our blog is meant to keep readers informed about the rental housing industry with helpful tips, business advice, best practices, market updates, and the latest happenings at RHAWA. View blog.
Connect Member Forum: Our peer-to-peer community, CONNECT allows you to network with other landlords as well as share tips, best practices, and learn what others are doing 24/7.
CURRENT Newspaper: RHAWA's monthly publication, CURRENT is the leading rental housing news journal in Washington State. CURRENT reviews indsutry related legislative activity, vacancy trends, property management and maintenance information, as well as business and personal finance. It is available online to view, save, and print as well.
Help Center: Gain exclusive access to a wealth of information on everything from best practice advice to landlord-tenant related questions. The distinction between landlord-tenant related questions and legal advice is important to note, as RHAWA does not offer legal advice or have an attorney on staff.
Vendor Directory: RHAWA proudly offers a wide selection of skilled and reliable vendors for your rental business needs. When seeking competitive bids, be sure to mention your RHAWA membership as many offer member discounts. View directory.

The Rental Housing Academy's education program is designed to provide independent landlords, MHC owners, and others in the residential housing industry a foundation of knowledge and skills to help them meet legal responsibilities and succeed in the business. RHAWA provides deeply discounted education on rental operations, Residential and Manufactured/Mobile Home Landlord-Tenant Acts, property investment, and rental business management. Seminars are presented ONSITE, ONLINE, and ONDEMAND so you can access education anywhere, anytime. Informal discussions and presentations are offered to explore trending issues and targeted topics of interest in the rental housing industry. LEARN MORE >

RHAWA prides itself in offering a wide variety of screening products, including credit information, multi-state criminal and eviction searches, employment and rental verifications, and more! There is a federally required certification process that members must go through in order to obtain credit information on your applicants, but don't let this intimidate you! RHAWA's screening staff is here to help you with this process so you can make the most informed decision possible about your applicants. LEARN MORE >
---
Membership Upgrades
Dual PM + Vendor

Includes PM and vendor benefits. Dues are based on the number of units owned plus $250 for vendor add-on.

Dual PM + MHC

Includes PM and MHC benefits. Dues are based on the number of units and lots owned/managed.

Enterprise

Includes PM, MHC, and vendor benefits. Dues are based on units & lots owned /managed plus $250 for vendor add-on.
---
MEMBERSHIP QUESTIONS? Contact an RHAWA Membership Specialist today.